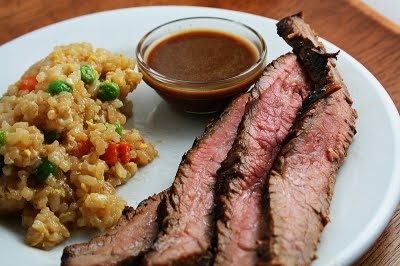 I usually don't put up awful photos like this one. But as I have mentioned in my last few posts, I am have not been feeling up to par. My family is even lucky to get a home made meal these days. So the fact that I cooked dinner and actually took a picture is a miracle. I was soooo not in the mood for photo styling, lighting and all of that hoopla. So ya get what ya get and ya don't get upset!!
This was a tasty quick and easy dinner. Flank steak is a tough cut of meat unless you marinate it(8 hours to overnight) and also make sure you slice it ACROSS the grain.
My dipping sauce was delicious. Nice and garlic-y. It is pretty salty(obviously from the soy sauce). But I love salt, so it was perfect for me.
1 Tablespoon rice wine vinegar
1 Clove garlic minced
1/2 Teaspoon ground ginger
1 Tablespoon Honey
1/2 tablespoon Hoisin Sauce
Pinch Ground red pepper
2 Tablespoons Vegetable oil
In a blender, combine soy sauce, vinegar,garlic,ginger,honey,Hoisin sauce and red pepper.
Pulse until combined.
Very slowly, add the oil until it thickens.
from All Recipes
3 tablespoons honey
2 tablespoons white vinegar
1/2 teaspoon ground ginger
1/2 teaspoon garlic powder
1/2 cup veggie oil
1 1/2 pound flank steak
In a blender, combine soy sauce, honey,vinegar,ginger,and garlic powder.
Pulse until mixed.
SLOWLY add the vegetable oil until it emulsifies.
Place flank steak in a gallon freezer zip lock bag and pour the marinade over the steak.
Marinate the steak for 8 hours or overnight..
Remove the steak(toss the marinade) and grill on medium high heat for 5 minutes a side.
2 cups chicken stock
Hand full frozen peas, thawed
Hand full frozen carrots, thawed
Vegetable Oil
1 egg
Dipping sauce from above or soy sauce
In a medium saucepan, bring stock to a boil and add rice. Return to a boil. Reduce heat to low, cover and cook for 20 minutes.
In a large skillet heat vegetable oil over medium high heat. Add the peas and carrots and cook for a few minutes, until carrots are softened.
Add the egg and quickly scramble. Add the rice and stir to incorporate.
Saute for a few minutes. Add soy sauce to taste.