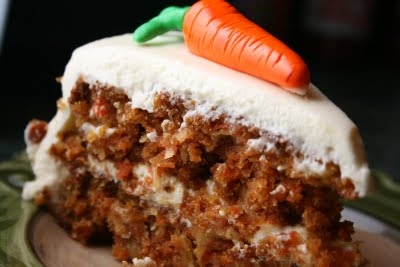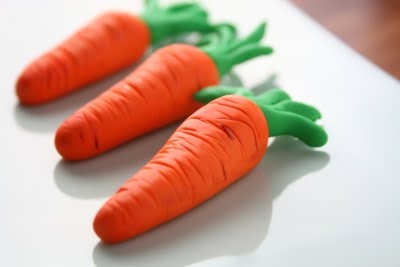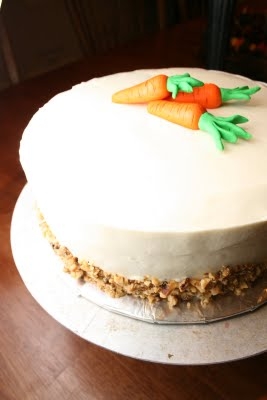 A cake that is good for you right? I mean, come on..for goodness sakes..the cake has almost a pound of carrots in it. It has to be good for you right? I mean the eye sight improving qualities alone are staggering! Ok, that is my own delusion. I live in my own little world. Anyone want to join me? It is quite fun in my head. Parties all the time.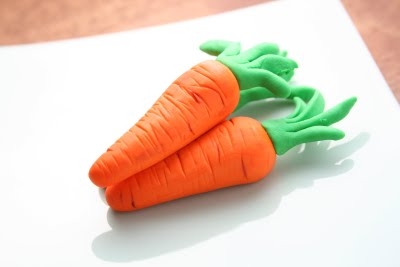 It was my Mother-In-Laws Birthday and her favorite cake is Carrot Cake. And golly gee wilikers, I would not let her down. I had never make a carrot cake before. Now I didn't say anything about never eating one. I have eaten my fair share of carrot cakes. I have a trophy to prove it( again, in my head).
This carrot cake is utterly amazing. Super moist but also super messy. Certainly not a clean cutting cake. But do you really care what it looks like cut? I mean besides the photo? It's going in my belly, and my belly doesn't have eyes.
I wanted a maple cream cheese frosting. And there only seemed to be one recipe floating out in foodland. But I wanted to add something extra to it (ya know, the rebel in me). So I beat up 3/4 cup whipping cream and folded it into the finished frosting. Changed the measurments and added some vanilla. mmmmmm. That's all I have to say about that.
And aren't my carrots the cutest ever? I used a 50/50 mix of fondant and gum paste. Rolled the up into carrot shapes and scored them for the realistic look. I also "painted" them with some brown food paste mixed with vodka to give them some shading.
2 (8 oz) blocks cream cheese, room temp
1 stick butter, room temp
3 cups powdered sugar
1 teaspoon vanilla
1/4 cup maple syrup(the real stuff y'all)
3/4 cup whipping cream
In a medium bowl, beat cream cheese and butter together until fluffy.
Add powdered sugar and mix at low speed until smooth
Add the vanilla and maple syrup, mix until smooth
Take a bowl and the whisks of your mixer and pop them into the freezer for 5 minutes(this helps you whipping cream beat together better)
Remove the bowl and whisk from the freezer and beat your whipping cream on medium high, until a consistency of whipped cream is achieved.
Fold into frosting.
Pop the frosting in the fridge for 20 minutes or so. It is a VERY creamy frosting and it will not hold a piped shape!
CARROT CAKE
About 3/4 pound carrots
2 cups all-purpose flour
2 teaspoons baking powder
1 1/2 teaspoons baking soda
1 1/2 teaspoons salt
2 teaspoons ground cinnamon
2 cups granulated sugar
1 1/2 cups vegetable oil
4 large eggs
1 (8-ounce) can crushed pineapple, drained
1 cup sweetened flaked coconut
1/2 cup walnuts,toasted and chopped
Put a rack in middle of oven and preheat oven to 350F. Butter and flour cake pans. Or better yet, use parchment paper in the bottom of you pan and also butter and flour.
1. Shred the carrots..about 2 cups.
2. Sift together flour, baking powder, baking soda, salt and cinnamon into a large bowl. Stir in sugar, oil, eggs, carrots, pineapple, coconut and walnuts.
3. Divide batter between cake pans and bake until a wooden pick or skewer inserted in center of cakes comes out clean, 35 to 45 minutes. Cool layers in pans on a rack for 5 minutes, invert layers onto rack to cool completely.