Wow..who knew sugar cookies would spark so many questions. I appreciate all of your kind words on my cookies. You can tell with my white and black Halloween cookies I am a "simpleton". I tend to go for the clean look. Kinda like my Christmas lights..ALL WHITE PLEASE!
Ok
, so I thought I would post some of my tips for making sugar cookies. I am by NO MEANS a professional cookie decorator(now I said nothing about not being a professional cookie eater) so these are just my tips I live by and they have not steered me wrong each time I have made decorated cookies(the whole 3 times I have made them). I am using a different icing recipe from when I made my snowflakes and apples that doesn't require you to make a separate outline on the cookies and having to let that outline dry(see the apple cookies). Thus saving time and icing! With the new icing, you outline the cookie and then immediately (with the same icing) ice the center of the cookie
See my no fail sugar cookie tips below.
Remember a cookie professional I AM NOT, so I hope I did not forget anything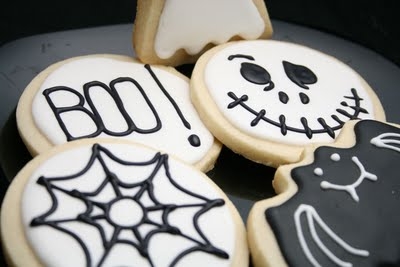 You can see the outline from the icing on the apples..the new recipe I use eliminates this look.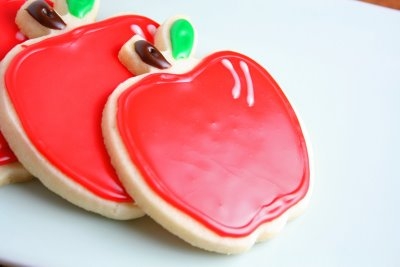 The snowflakes were my first bout with sugar cookies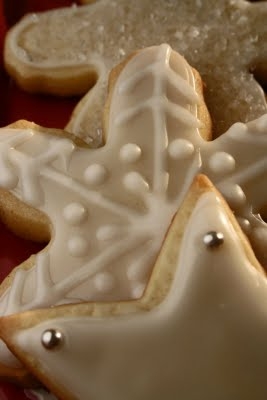 DOUGH TIPS
Print These Tips HERE
1) Remember "sugar cookies" and "Cut out sugar cookies" are two totally different animals.
If you try to make your standard soft and chewy sugar cookie recipe and roll it out and use cookie cutters, you will get a big blob of nothing. You have to go with a more sturdy "cut out recipe".
2) Once my dough is mixed I divide it into 2 portions I roll it out in between 2 pieces of parchment paper(it is a sticky dough). I roll them to 3/8″. Having some of those spacers that you slip on to the ends of your rolling pin ensure your cookies are all even in thickness. Also, want to know the best rolling pin available on the market? A piece of PVC pipe!
Its cheap and you can cut it to whatever size you want it. I had my hubby cut mine to 2 feet so I could roll large pieces of fondant.
3) You dough MUST, I repeat MUST be cold. Especially before baking. After you roll your dough to 3/8″. Put it in the fridge for 2 hours in the parchment paper to rest and chill.
4) Cut your dough…Use your cookie cutters and cut out your desired shape. Remove the excess dough and re roll to 3/8″ between parchment paper and put back in the fridge until well chilled again. You also must put your cut out shapes back in the fridge for 10-15 minutes before baking.
5) Never EVER EVER use a hot or warm cookie sheet. It will start to melt the cookie dough before it ever reaches the oven.
6) Un greased cookie sheet! Do not use cooking spray, butter, parchment paper or a silicone mat.
These items may cause your cookie to spread a bit and we want the least amount of spread.
7) Keep an eye on your cookies. For the thickness of 3/8″, mine baked for 12 minutes.
You do not want the edges to brown. You want that nice uniform pale color all the way around.
8) Keep on the cookie sheet for 2 minutes before removing to a cooling rack.
9) The cookies must be completely cool before you begin icing.
ICING TIPS
The below recipe allows you to make one icing thickness and use it from start to finish in the decorating process.
1) Sugar cookie icing is not a lick the bowl type of icing. It is very sweet and really only tastes good when paired with the cookie.
2) Make sure the bowl you use for mixing your icing is free on oil and grease.
3) The best tip size in my opinion for the bottom smooth icing is a #4 round.
4)I tint the icing with paste food coloring. If you use the liquid food coloring it thins out the icing too much. And the paste makes the colors more vibrant without having to use a whole bottle of the liquid stuff.
5) Color the icing a tad bit darker than you would like the finished color. It dries a bit lighter.
6) Fill your icing bag by placing your bag in a cup with a wet paper towel in the bottom. Also use this cup to hold your icing bag when you are not using it. The wet paper towel keeps the icing from leaking all over the place and the tip from clogging.
7) Using your #4 tip, outline the cookie 1/4″ in from the edge of the cookie. Then immediately fill in your cookie using the same tip. Please note the filling in of the cookie does not have to piped on perfectly. If there are any missed spots, take a tooth pick and smear the icing into the missed spots. Carefully lift your cookie and shake it from side to side to help the icing level itself out. It might not look completely smooth. But it will smooth out as it drys.
8) If there are any air bubbles in your icing, pop them with a pin and gently shake your cookie from side to side to even it out again.
9) Let your iced cookies dry for about 4 hours before you do any of your design work. If you do it while the bottom icing is wet, the colors will bleed.
10) For making my decorations on the cookie, I use a #1 or a #2 tip.
11) Shaky hand? Try resting your elbows on the table while piping or even try holding your breath.
12) After all of your decorating is complete, it is very important that your icing COMPLETELY dries. I usually dry my cookies for about 12-16 hours. Just dry them on the cooling racks out in the open.
13) Once dry, you can wrap them individually or stack them on top of one another with parchment/wax paper between the cookies.
14) If kept airtight they last quite some time. The longest they have been kept around in my house is 7 days. But some people say they can last a month.
CUT OUT SUGAR COOKIES
PRINTABLE RECIPE
1 cup butter, softened
1 cup sugar
1 egg
1 1/2 teaspoon almond or vanilla extract or a mix of both
3 cups ap flour
1 1/2 teaspoons baking powder
1/2 teaspoon salt
Preheat oven to 350 30 minutes before baking the cookies
Cream the butter and sugar until light and fluffy.
Add in the eggs and the extract and beat to incorporate.
In a separate bowl sift together the flour, baking powder and salt.
Slowly add the flour mixture to the butter mixture and mix until combined.
Divide the dough into 2 portions and roll to 3/8″ thick in between 2 sheets of parchment paper and chill in the fridge for 2 hours.
Remove the dough and cut your desired shape. Place the formed cookies back in the fridge for 10-15 minutes. Take the scraps and re roll them to 3/8″ in the parchment paper and re chill before cutting out again.
Bake your cookies on an
un
greased cookie sheet for 8-12 minutes depending on the thickness of your cookie.
Cool on cookie sheet for 2 minutes before removing to a cooling rack.
Cool completely before icing.
*I have no clue the origin of this recipe, I have had it forever and it was handwritten*
ROYAL ICING COOKIE GLAZE
by
antonia
74
PRINTABLE RECIPE
6 oz(3/4 cup) warm water
5 Tablespoons
Meringue Powder
1 teaspoon cream of tarter
2 1/4 pounds powdered sugar
*If your meringue powder does not have any vanilla flavor in it, you can add a teaspoon of CLEAR vanilla.
In a mixer bowl, pour the warm water and the meringue powder in and whisk for about 30 seconds until frothy.
Add the cream of tarter and whisk for another 30 seconds.
Pour all of the sugar in at once and place on the mixer.
Using your paddle attachment, on the lowest speed, mix slowly for 10 full minutes.
Icing will be thick and creamy.(like
Elmers
Glue)
Cover the bowl the a damp cloth to prevent drying and crusting.
If you find the icing too thick, you can thin it by adding in water by the Tablespoon.