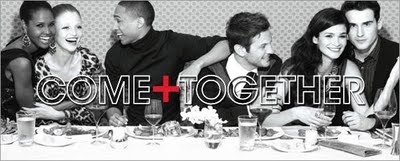 I was contacted about a new campaign for Macy's called COME TOGETHER, it is an innovative awareness and fundraising campaign that aims to feed 10 million people suffering from hunger. COME TOGETHER invites the public to rally around the cause by hosting special dinners in their homes and asking their guests to pledge a donation to Feeding America. In return, Macy's will match these donations dollar-for-dollar until the total goal of 10 million meals is reached.
· Macy's Culinary Council, made up of 15 world-renowned chefs including Emeril Lagasse, Tyler Florence, Todd English, as well as entertaining authority Martha Stewart, will serve as the experts of this campaign. They are offering up dinner party themes, recipe ideas, product suggestions and even their suggested playlists, to help America host delectable and entertaining dinners. All of this great content is available on macys.com/cometogether.
· To launch the campaign, Macy's will host a special VIP dinner party with Martha Stewart and Emeril Lagasse on September 15th in its flagship Herald Square store. Also on that day, Macy's is hosting the World's Largest Dinner Party. This kick-off event will have customers join in the "first course" of the nationwide party to celebrate the launch.
Click the link below if you would like more info on participating.
If you cant host a dinner party, you can donate to the wonderful cause.
We as food bloggers are fortunate enough to be able to feed our families on a daily basis. Others in our county are not as fortunate. So please help. Even if it only $1, that $1 will feed 7 people.
Please pass this important information on to as many people as you can.
http://social.macys.com/cometogether/#/home
And congrats to the winner of the Thrive Gift basket
Random Integer Generator
Here are your random numbers:
11
Timestamp: 2009-09-04 19:01:39 UTC
Congrats to Amy. Amy said.."I'm signed up. It looks like they have awesome products."
Amy would you be so kind to email me your mailing address?