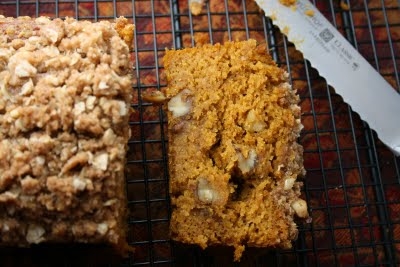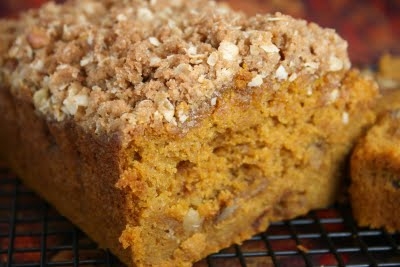 First I want to thank you all for your Tooth Fairy help. I think I am shooting for $2 a tooth. Fair enough I think.
Second, a HUGE thank you to Jennifer at The Speedy Gourmet. She wanted to see if I had a "button on my blog" so she could put it up on her blog. When I told her I had no clue how to get one of those fancy buttons, she did it for me!!! How nice is that!?? Since my logo is a bit long, it got squeezed in translation. However a button is a button and it is awesome that Jennifer took the time to do it for me!
So if it were dying to have one of my buttons for your blog, well here ya have it! But don't go steeling my logo for your personal use..it is currently being Trademarked!! 🙂 My Lawyer will hunt you down! LOL LOL LOL

Now on to the yum.
Don't you just love when you are craving something, then throw it together and it works wonderfully?
I made this pumpkin bread a few months ago (you have no clue how behind I am on posting).
I must say, it was perfect. Well anything with a crumb topping is perfect if you ask me.
This bread is super duper moist, sweet but not too sweet and ultra comforting. I took my banana bread recipe and mixed it up a bit. Sure you could roast your own pumpkin and puree it. But when I made this bread, it was not pumpkin season and there were no pumpkins to be had.
PUMPKIN BREAD
1/2 cup butter, softened
1/2 cup white sugar
1/2 cup light brown sugar
1/2 tablespoon vanilla
3 eggs
1 can(15 oz) Libby's 100% Pure Pumpkin(not pumpkin pie filling)
2 cups flour
1 teaspoon salt
2 teaspoons baking powder
1/2 teaspoon baking soda
1/2 tablespoon pumpkin pie spice
1/2 teaspoon cinnamon
1/3 cup buttermilk
1/2 to 1 cup toasted walnuts, chopped
Preheat the oven to 350.
Lightly grease TWO 8 x 3 3/4 x 2 pans (those disposable foil ones at the store)
Cream together butter and sugars until light and fluffy.
Add the vanilla
Add the eggs, one at a time.
In a separate bowl, whisk together the flour,salt,baking powder,pumpkin pie spice and cinnamon.
Add the dry ingredients to the wet, alternating with the buttermilk, starting and ending with the flour.
Fold in the pumpkin and toasted walnuts.
Equally pour into the pans and top with crumb mixture (recipe below).
Bake for 50-60 minutes, until toothpick inserted into the center comes out clean.
CRUMB TOPPING
1/4 cup white sugar
1/4 cup brown sugar
1/3 cup ap flour
1/2 teaspoon ground cinnamon
1/4 cup cold butter, cubed
1/2 cup oatmeal (1 package of instant oatmeal)
1/2 cup walnuts
In a medium bowl, combine 1st five ingredients with a pastry blender or 2 forks, so it resembles, well "crumbles".
Mix in oatmeal and walnuts