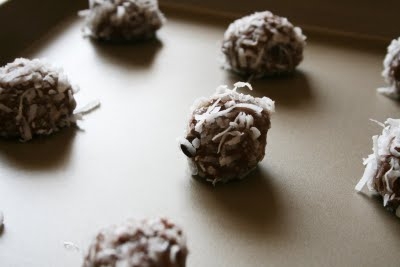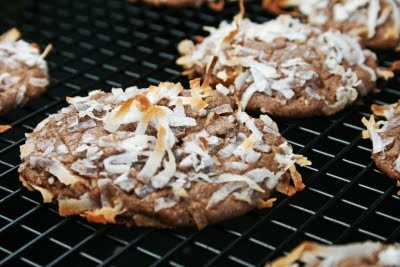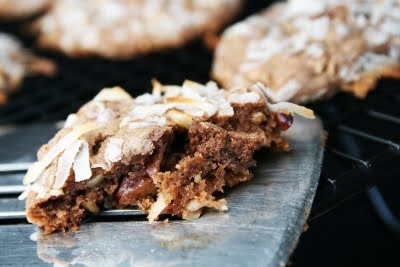 When life hands you Boxed Cake Mix(or when they are buy one get one free at the store and you can't pass up a sale) what do you do with it? Well, I don't usually make cakes with them as I prefer homemade. Well silly, you make cookies!
These were pretty amazing if I do say so myself. What puts them over the top? The crispy coconut on top. AMAZING I tell you! I adore coconut. I could eat it with everything. Roll a piece of cow crap in coconut, yep I'll take it! Ok so that's just plain nasty. No thanks, I will pass on the coconut covered cow terds. A hint for the wise, if you store these in an airtight container, the coconut will loose a bit of that heavenly light crispness. So eat them all in one sitting and you will be better off!!!!
GERMAN CHOCOLATE COOKIES
1 box German Chocolate Cake mix
4 Tablespoons butter, soft
1 egg
1/2 cup canola oil
1/4 Teaspoon coconut extract
1 teaspoon vanilla extract
1 cup pecans, toasted and chopped
3/4 cup chocolate chips(milk or semi-sweet)
Coconut to roll the cookies in before baking
Preheat the oven to 350.
In a large bowl, mix all of the ingredients together until blended.
Scoop out a ping pong ball size amount of cookie(I used my
tiny Pampered Chef Scoop
, that I could not live without all 3 sizes)
Roll into a ball (moisten your hands if it gets sticky)
Roll in the coconut.
Place on an ungreased cookie sheet 2 inches apart.
Bake for 8-10 minutes.