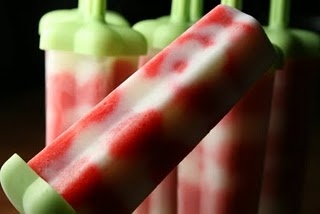 Kids and popsicles pretty much go hand in hand. Truth be told here in Florida, the second you walk outside, you get instant meltage with the color staining dye. So my tip to solve the problem of staining the clothes….do the white trash thing and send your kids out on the front porch, in their undies, let the popsicle drip on them and then hose em down with the garden hose! Oh yeah!!! WHITE TRASH indeed!
Go ahead and take a gander at the ingredient list on the back of some popsilces in your freezer. EEEKKKK.
Now that summer is almost over for you lucky ducks up North, hurry up and make these. I assure you your kids will love them.
STRAWBERRY-YOGURT SWIRL POPS
1 lb strawberries, hulled
1⁄3 cup plus 1⁄4 cup sugar, preferably superfine
2 tsp lemon juice
2 cups vanilla yogurt
You'll also need:
2 large plastic squeeze bottles,
10 pop molds (1⁄2-cup capacity)
PREPARATION
1. Place strawberries, 1⁄3 cup sugar and lemon juice in blender; purée 3 minutes. Pour into a large plastic squeeze bottle and screw on bottle top.
2. In a medium bowl, stir remaining 1⁄4 cup sugar into yogurt until sugar is dissolved. Pour into the second squeeze bottle and screw on bottle top.
3. Fill each pop mold with strawberry and yogurt mixtures, alternately squeezing or spooning the mixtures into each mold to create a swirled pattern. Place tops on molds; insert wooden sticks. Freeze at least 6 hours until solidly frozen.
4. Remove molds from freezer. Soften slightly at room temperature, about 5 minutes (or dip molds in warm water a few seconds). Remove pops from molds. Serve immediately, or wrap pops separately in plastic wrap, then store in freezer bag or container.
Tip: Large squeeze bottles (2-cup capacity) are available in crafts stores and baking supply stores, sometimes labeled for candy-making. To easily unmold the pops, use a pair of pliers to grip the sticks and gently pull out pops.
****I didnt have any squeeze bottles, so I used 2 heavy duty zip lock bags and snipped the corners.
Also, I can NEVER find superfine sugar, so you can just process it in the food processor for about 30 seconds, just be sure to let the sugar dust settle before you take the lid off your food processor.
Recipe from Womans Day(I think, or one of those other "family" magazines)