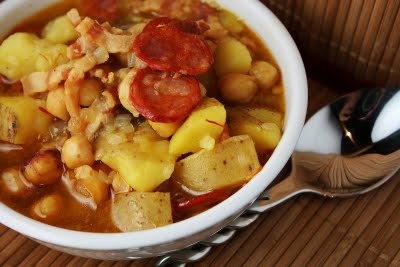 If my Texas Caviar didn't make you fart enough, well I have the answer right here. Spanish BEAN soup. Do I need to remind you of the toon? "Beans, beans, the more you eat, the more you fart, the more you fart, the better you feel, so eat some beans at every meal!"
So get your Beano out and make this soup. I clearly understand that we are slap dab in the middle of summer here, but I am not much of a seasonal cook. I do not discriminate against soup in the summer or grilling in the winter. I am an equal opportunity foodie!
Here in Tampa we have a HUGE Latin influence. So there are versions of Spanish Bean soup in just about every Cuban or Spanish restaurant you go to. Soooo good I tell you.
Oh and don't forget a big hunk of yummy bread to dip in the soup!
Come join Soup-a-Palooza at TidyMom and Dine and Dishsponsored by Bush's Beans, Hip Hostess, Pillsbury and Westminster Crackers"
SPANISH BEAN SOUP
1/2 pound dried chickpeas a.k.a garbanzo beans
1 ham bone
1 beef bone
1 tablespoon salt
4 cups low sodium chicken stock
4 cups water
1/4 pound salt pork or bacon, cut into thin strips
1 onion, finely chopped
1 Spanish Sausage a.k.a Chorizo, sliced into thin rounds
2 potatoes, peeled and cut into quarters
Generous Pinch of Saffron
Salt and Pepper
Rinse beans in cold water. Place in a pot and cover them with water completely, add 1 tablespoon of salt to the water.
The next day drain the beans and place them in a large soup pot. Add the 4 cups of water and the 4 cups of chicken stock to the beans and add the beef and ham bones. Over low heat, cook for 45 minutes.
If any yucky foam forms on the top, just skim it off.
Slowly fry the salt pork(or bacon). Once it started to get a bit browned, add the onion and cook until soft.
To the pot with the beans, add the pork, onions, potatoes and saffron.
When the potatoes are done, remove from heat and add chorizo.
Salt and pepper to taste.
****Ask the butcher behind the counter where they keep the salt pork, ham and beef bones****
Recipe inspired from The Columbia Restaurant