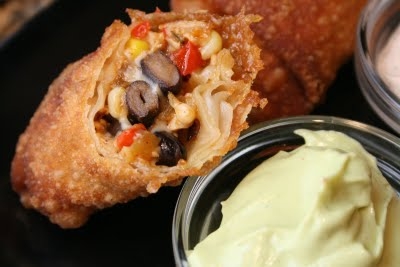 Seems like every restaurant you go to these days, there is some version of The Southwestern Egg Roll. I love them. Yes they are fried and yes they make my ass larger than life. But every once in a while wont hurt. Moderation people..moderation.
One night I had a craving for them but didn't want to go out to eat. Going out would mean I would have to get out of my pajamas, actually brush my hair and put on makeup. Nope that wasn't going to happen. So damn it, I stayed my no make-up pajama self an made my own.
They were soooooooooo yummy. Just like any restaurant you would go to. I made two dips to go along with them Spicy Sour cream and creamy avocado.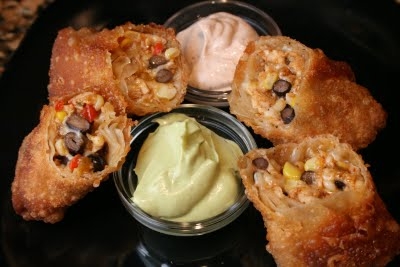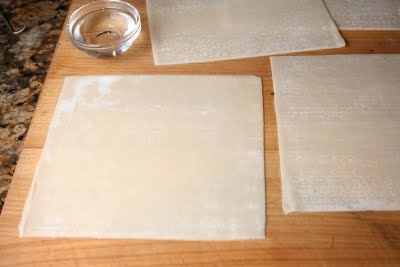 Before you roll the wonton, dip your finger in water and run it along the edges of the wrapper, this helps the wonton stay sealed.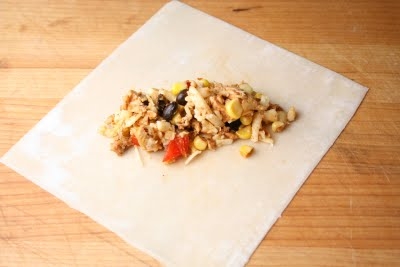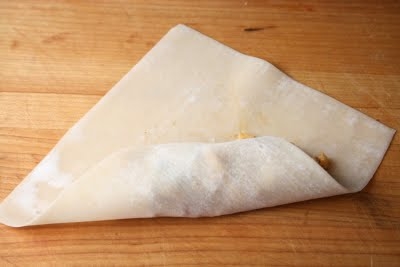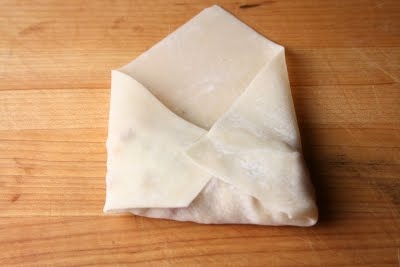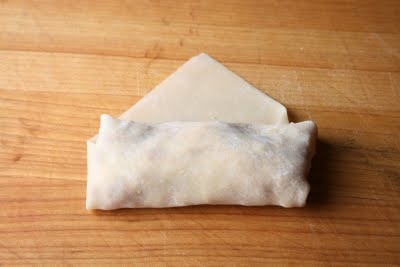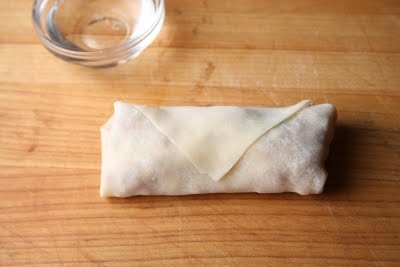 recipe by me, makes about 14
1 pound boneless, skinless chicken breasts
Olive Oil
4 teaspoons taco seasoning, divided
1 cup corn(FRESH)
1/2 cup black beans(from the can, drained and rinsed)
1/2 can(about 2 oz) can chopped green chiles (you can use the whole can if you want)
2 Tablespoons Red Pepper chopped(about 1/4 of a red pepper)
8 oz Monterey Jack cheese
Wonton Wrappers(the larger size)
Peanut or vegetable oil
Fill a large pot with about 3 inches of oil. Heat it to about 375
(the oil will drop to 350 once you put the wontons in)
Season chicken with 2 teaspoons of taco seasoning.
Heat olive oil and a skillet and add the chicken. Cook until no longer pink.
Remove and set aside to cool.
In the same skillet that you cooked the chicken in, add the corn, black beans and chiles.
Season them with 2 teaspoons of taco seasoning. Cook on medium low for about 5 minutes. Remove from the heat and allow to cool.
FINELY chop the cooled chicken.
Stir the chicken into the cooled vegetable mixture.
Add the cheese and mix everything together.
Take 1 wonton wrapper and place it in front of you so it looks like a diamond.
Dip your finger in water and run it around the edges of the wrapper.
Place 1 1/2 tablespoons of mixture in the middle of the wonton.
Take the bottom tip and fold it over the mixture and tuck it around the mixture.
Fold both side in so it resembles an envelope.
Then roll flap around and seal with more water.
Store seam side down until ready to fry.
Carefully drop 3 or 4 wontons at a time into hot oil seam side down.
Fry for about 3-4 minutes or until golden brown.
CREAMY AVOCADO DIP
recipe by me
1 avocado
5 Tablespoons sour cream
1/8 teaspoon cumin
1/8 teaspoon chili powder
Juice of 1/2 small lemon
Salt and Pepper to taste
Mix everything until smooth. I use my mini food processor
Makes about 1 cup
SPICY SOUR CREAM DIP
recipe by me
1/2 cup sour cream
1 teaspoon taco seasoning
About 4 shakes of hot sauce(such as Franks Red Hot)
Salt and pepper
Mix everything together and pop in the fridge for a few hours prior to serving