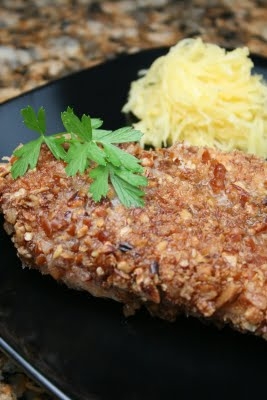 ohhh…looky look who is using a a garnish!!!!! I know its just parsley and all..but still, just call me Mizz Fancy Pants.
Let me tell you how AMAZING this chicken was..AMAZING!
It is one of those dishes you can taste every ingredient, and they all went sooooo good together.
Keep in mind that I did pan fry these in Peanut Oil(hey, cut me some slack, you see that healthy spaghetti squash in the background don't you??) However, I am sure you could totally bake them.
Just spray the coated chicken with non-stick spray and bake at 350 until no longer pink inside..about 25-30 minutes.
PECAN-PRETZEL CRUSTED CHICKEN
Recipe by me
4 skinless, boneless chicken boobs
2 eggs
2 tablespoons Dijon mustard
1 1/2 teaspoons REAL maple syrup
Salt and Pepper
1 cup pecans, chopped
1 cup pretzels, chopped
1/2 cup panko bread crumbs
4 teaspoons corn starch
1/8 teaspoon red pepper(or more if your the hot and spicy type)
1 tablespoon brown sugar
Salt and pepper
Place the chicken in a large sturdy freezer zip lock bag.
Pound the chicken until they are even in thickness, about 1/2 inch thick
Mix eggs, Dijon, maple syrup salt and pepper together in a small bowl.
Pour over chicken in zip lock bag and marinate in the fridge for a couple hours.
In a shallow dish(I use pie pans),mix together pecans ,pretzels, bread crumbs, corn starch, red pepper, brown sugar, salt and pepper.
Remove the chicken from the zip lock bag and let some of the egg mixture dip off.
Place in the pie pan and firmly press the chicken on both sides in the bread crumb mixture.
Fill a large pan with about 1″ of peanut oil and heat over medium heat.
The oil is hot enough when you stick the handle of a wooden spoon to the bottom of the pan and bubbles form around the wooden handle (a little trick I learned from Rachel Ray)
Cook the chicken for about 5 minutes per side or until no longer pink.