When Emily Franklin(the author of the book) contacted me and wanted me to review her book, Too Many Cooks, my initial thought was….NO! you see I cant read…I mean, yes I can read, I just don't have the attention span to sit down and immerse myself in a book. I know, I know, I am missing out, but believe me I have tried and I just cant seem to do it. However when I read some reviews of Too Many Cooks, I quickly changed my mind. I also must admit I am not a very good book reviewer. But what I can tell you is that this book is great. I actually sat down and read it cover to cover. The fact that it held my attention should be reason enough for you to buy it.
Lets face it, parents with kids sometimes think that their kids are the only ones who don't eat their dinner, or never try new things. While reading "Too Many Cooks" I quickly realized that other people live in hectic, crazy houses. Emily writes in an honest and relatable style. She opens up her home and kitchen to you in a way that makes you feel as if you were sitting in her home.
Emily writes about her daily trials and even her family vacations and yes they revolve around food. She has wonderful "do-able" tips on how to get your kiddos to try new foods.
And even if you don't have children, you will still enjoy this book. Aside for her funny stories and kitchen mishaps you gives you 102 great recipes!!! SCORE!
So if you would like to purchase this book you can get it here on Amazon.
Or Emily has given me a book to give away to one of my readers..fun fun fun.
So here is the deal..
You can enter a total of 4 times. (you must do this by leaving 4 SEPARATE comments)
1) Leave a comment
2)Post about my giveaway on your blog(w/ a link to my site)..leaving me another comment w/ the link
3)Share a link about this contest on Face Book(with the photo of the book if you can)..leaving me a comment w/ the face Book link
4)Tweet about my contest(w/ a link to my blog) leaving me a comment w/ the Tweet link.
The winner will be chosen on Friday August 7th at 4 pm EST by Random Number Generator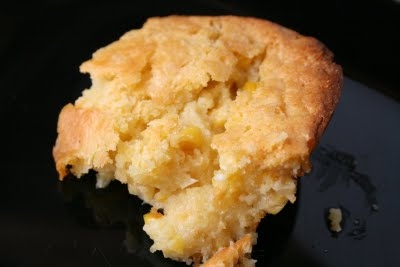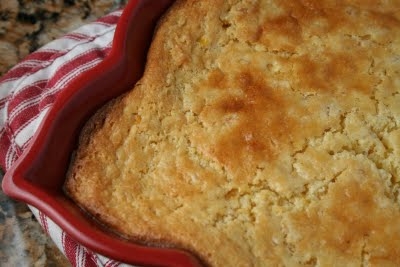 Now on to the Corn Pudding. I soooo went out of my norm to make this dish. I CANT STAND canned veggies. I HATE(I know hate is a strong word) canned corn, canned green beans,canned peas,canned Lima beans, etc. K—get the point, I don't dig most canned veggies. But my husband grew up on canned vegetables, so I made this for him. He love love love it. I think he ate 90% of it over a two day period. Even though the corn pudding screamed canned corn, I still enjoyed it. But the next time I make this I will substitute the canned corn for fresh or frozen corn.
But if you are used to the canned variety, you will totally love this sweet and creamy casserole!
CORN PUDDING
from "Too Many Cooks, Kitchen Adventures with 1 Mom , 4 Kids, and 102 Recipes"
1 box Jiffy Corn Mix
1 can creamed corn
1 can corn, drained
1 cup low-fat sour cream
1 egg
1/2 stick butter, melted
Mix ingredients and put into greased serving dish like 9×9 or 9 x 13.
Bake at 350 for 45 minutes or until set through