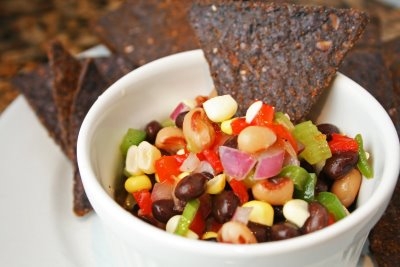 Waaaahhhhooo.no meat, no chocolate AND no butter??? What, have I completely lost my mind?
I know you all must think I eat awful. But truly I don't. Sure, I do splurge every once in a while, but I cant remember the last time I just baked up something for shits and giggles. Hasn't been as much since my metabolism seems to have run away with my pre-childbirth hips. I mean come on, do you really want to come to my blog and see chicken and steamed veggies?? Big whoopee-do! I would say I only post about a quarter of this things I prepare, if that.
So here is a nice and (mostly)healthy treat that is easily whipped up. Do you see all of that fiber in there?
"Beans beans, the more you eat, the more you fart, the more you fart, the better you feel, so eat some beans at every meal!" Or maybe just take some Beano before you start munching on this.
OR WAIT..better yet..ya know the in laws..the ones you cant stand, the ones that are coming over for dinner?? Serve this and DONT take your Beano, and I am sure they will make it an early night.(Evil I am..EVIL)
Make this the night before you serve it, so all of the flavors have a chance to incorporate together.
There are a ka-zillion recipes out there for Texas Caviar, but I think you will enjoy this one.
Fancy it up with some blue tortilla chips.
TEXAS CAVIAR
1 can black beans, drained and rinsed
1 can black eyed peas, drained and rinsed
1 cup frozen or fresh corn
1 small jar pimentos
2 stalks celery, chopped
1/2 red onion, chopped
1/2 green pepper, chopped
1/2 cup apple cider vinegar
1/4 cup olive oil
1/4 cup vegetable oil
1/2 cup sugar
Salt and pepper
In a small sauce pan over medium high heat, bring vinegar,oils ans sugar to a boil and cook until the sugar is dissolved. Remove from heat and cool.
Add all the veggies in a large bowl and pour the liquid over the top.
Cover and refrigerate overnight. Stick a spoon in there and mix it around every so often.
Before serving season with salt and pepper if desired