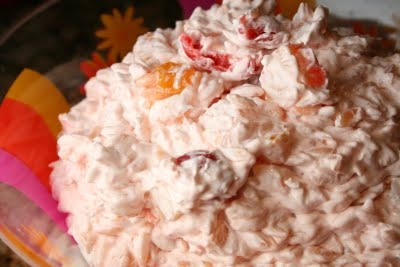 This "salad" is named after my great-great-great Italian Grandma, Rosa Marina. God rest her soul.
Ummmm. I lie..I don't have a Great great grandma named Rosa Marina and I am pretty sure that I don't have an ounce of Italian in me. But who ever this Rosa Marina Bee-otch is, she sure made a yummy salad.
My friend Bobbi actually wanted me to make this salad for our little 4th of July party. She said her relative made it all the time when she visited Pennsylvania. I guess Rosa Marina is a type of pasta (damn, my grandma theory sounds soooo much better) that is popular in Pennsylvania.
Since Rosa Marina Pasta is no where to be found in Florida, I used Orzo Pasta. Bobbi gave me her family recipe..but I made a few changes as always. My husband has since renamed this salad Maggot Salad.(cause he thinks the cooked Orzo looks like Maggots) Yeah, real appetizing huh? Mmmmm, lets have some Maggot Salad. Tasty
ROSA MARINA SALAD
1 box Orzo (16 oz)
1 can crushed Pineapple (20 oz)
1 can Chunk Pineapple (20 oz)
1 Large can Mandarin Oranges
1 jar maraschino Cherries (10 oz)
2 eggs
3/4 cup sugar
2 Tbsp Flour
1 Tbsp Corn starch
16 oz. Cool Whip
1-2 cups pecans, toasted and chopped
Cook pasta according to package directions, drain, rinse and cool.
Drain the juice from the cans of pineapple, oranges and cherries into a large sauce pan. Reserve the fruit.
Beat in the eggs, sugar flour and cornstarch. Cook until thickened. Allow to cool somewhat and mix into the pasta. Cover and pop in the fridge overnight.
The next morning loosen up the pasta mixture with a sturdy spoon.
Add the fruit and nuts.
Fold in the Cool Whip