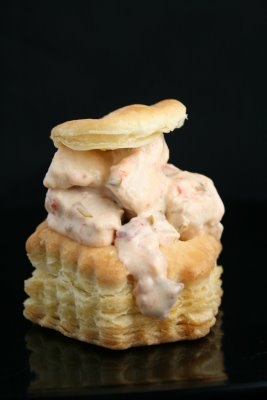 Before you get turned off from the beige on beige picture, let me tell you about this delectable dinner.
This is not what I started out to make. My original idea was to take chicken breasts, stuff them with a yummy cheese mixture and then completely wrap them in puff pastry sheets and bake them up. Well after I had split my chicken breasts and made my cheese filling, I opened my freezer only to find out that I had purchased Puff Pastry SHELLS and not SHEETS. Well shit. I stood there, cussin at the box of pastry shells and moved on. Now I had to go in a completely different direction with dinner. So I cubed the chicken and made my stuffing mixture into a sauce using some wine. And oh my gracious, let me tell you how FABULOUS this was.
Sure I got the standard, "ewww, I'm not eating that" from my kids to two completely cleaned plates from them!!!! Winner winner chicken dinner. YEAH!
CREAMY CHICKEN IN PUFF PASTRY SHELLS
1 1/2 pounds boneless, skinless chicken boobs, cubed
Olive oil
Salt and pepper
8 oz light cream cheese, softened
6 basil leaves, finely chopped
1 oz(about 2 TBSP) sun dried tomatoes, chopped
1 clove garlic, chopped
3 slices bacon, cooked(crispy) then broken up
3 Tablespoon Parmigiano-Reggiano Cheese, shredded
1/4 to 1/2 cup white wine
Cook your puff pastry shells according to package directions.
While your shells are baking, heat your Olive oil over medium heat.
Add the chicken to the pan and season with salt and pepper.
Cook until no longer pink. About 5-8 minutes
In a medium bowl mix together the cream cheese,basil,sun dried tomatoes,garlic,bacon,cheese and wine. Mix until smooth.
Slowly add it to the chicken. Mix with the chicken until no lumps remain.
Remove the middle part of the puff pastry and set aside per package directions.
Place chicken mixture into the hole in the pastry and put the little "hat" on the top of the chicken.
****This sauce would also be yummy over pasta or rice***