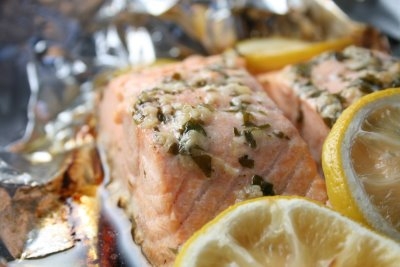 Seafood OMG, SEAFOOD. Our friends from the sea have never graced the pages of The Hungry Housewife blog. Why? Well 1/2 of my household hates it. My son and I are the only seafood lovers. One day last week I had my "want to kill myself" migraines (uh huh..they last for like 3-4 days, and my life is miserable). However dinner still needed to be cooked and I had nothing out.
I served my husband and daughter hot dogs(GASP, at least I made them on the grill and not the microwave) and I pulled out some frozen salmon from the freezer. I had no clue if it would cook properly in its frozen state, but I was hungry and in pain. But it worked perfectly and was delicious.
FROZEN SALMON IN FOIL
Salmon
Lemon
Compound Butter(recipe below)
Foil
Kosher salt and pepper
Heat your grill to roughly 400'ish
Place your salmon onto a large square of tin foil
Cut of about a Tablespoon of compound butter for each fillet and place it on top
Sprinkle with a bit of salt and pepper
Add some lemon slices
Close the foil up tightly around the salmon and grill for 20 minutes
Yum yum yum!!
ALL PURPOSE COMPOUND BUTTER
1 stick butter
juice and zest of 1/2 of a lemon
2 tablespoons fresh parsley
2 cloves garlic minced and sauteed in butter
Salt and pepper
Mix all ingredients together and place on a sheet of cling wrap. Form into a log by rolling in between the cling wrap and freeze until hard.