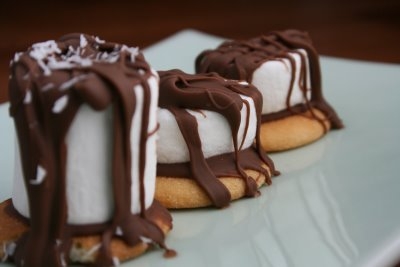 Well during this months P.M.S it was a sad sad sight. I had melted some chocolate and was dipping everything in sight, pretzels, Cheez Its, potato chips, peppermint candies, apples..well to be honest, anything I could think of. Chocolate takes over me like a tone of bricks. Remember my husband, the one who has not one clue about cooking or baking? The dork drew a diagram for me of what he wanted me to make for him!! Yes he drew a diagram. And I though I had issues! So being the good wife(even though I was P.M.S'ing), I carefully inspected his intricately detailed diagram and went to work. lol In his "diagram" the whole thing was supposed to be covered completely in chocolate, but my chocolate had cooled off sightly from my dipping extravaganza and I didn't feel like warming it up again. So he got a ploppy drizzle on top.
These are like Nilla Wafer S'mores. Everyone loved them, even the kids(shocking)
Here's what you need
Nilla Wafer S'mores
Nilla Wafers
Milk Chocolate
Large Marshmallows
Coconut(optional)
Cut a marshmallow in half on the horizontal.
Place a Nilla Wafer down, slather some chocolate on top to act as glue. Place the cut marshmallow on the chocolate. Then drizzle with melted chocolate. Add a sprinkle of coconut if desired.
****I know this is "Rocket Science" hard to do and I will draw you a diagram if needed!!! LOL LOL LOL