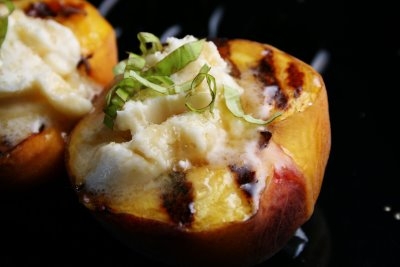 First, stop looking at my bruised basil.
I had a few things around the house that were reaching their death point..peaches, mascarpone and basil. So I decided to make a yummy treat. And let me tell you how good these bad boys were…After I finished my peach, I stood over the sink and licked my plate clean. Yes that is correct, I actually licked it clean..uh huh..like a dog. I couldn't resist the plate full of melted cheese mixed with the sweetness of the agave nectar and the tiny bit of crunchiness from the demerara sugar. Oh nooooo, I am not ashamed to admit that I licked it clean!
I bet if you make these you will do the same!
GRILLED PEACHES WITH MASCARPONE AND AGAVE NECTAR
Peaches(however many you want to serve)
Mascarpone Cheese(3 tbsp per 1/2 peach)
Agave Nectar(no specific amount)
Basil(1 leaf per whole peach)
Preheat your grill to around 400
Cut your peach in half and remove the pit
Grill cut side down for about 5 minutes
While peaches are grilling mix the cheese and a bit of agave nectar together to sweeten the cheese up a bit.
Scoop about 3 tablespoons of cheese onto each peach half.
Drizzle with agave nectar and sprinkle some demerara sugar on the top. Place some basil on each peach.EAT PEACH….LICK PLATE