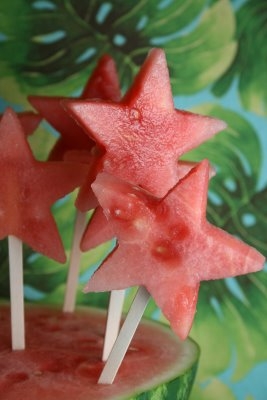 I don't know what part of the world you are in, but HOLY HELL..it is hot and nasty humid here in Florida. My little tadpoles(children) are living in the pool. Thank goodness for the pool!
I love to bring them out fun summer-y treats when they are outside. And we all know how annoyingly messy Popsicles can be! So frozen watermelon is your answer folks. no fuss no mess.
I get these really cute mini watermelons at the store and use one side to make the pops and the other half as the "pop holder". Too cute huh? I had previously used a circle cookie cutter to make my pops but I saw that Family Fun had used a star cookie cutter. Duh.! Cute for the 4th of July.
FROZEN WATERMELON POPS
1 watermelon
Craft sticks(or popcicle sticks)
Foil
Cookie Sheet
Cut you watermelon in half. Reserve one side for the "pop holder"
Cut thick ring slices (about 1/2 inch thick) of watermelon
Use your cookie cutter and cut out your shape
Insert your craft stick into your watermelon shape, taking care not to poke it through.
Place on you foil lined cookie sheet and freeze for a few hours.