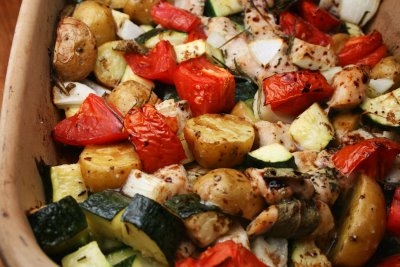 Today I hang my head in shame and present you with a dish without butter. Without heavy cream. Without Parmigiano-Reggiano . It is not secret that I love my butter and I love my heavy cream. But last night I got a wild hair up my ass and decided to forgo the fat. I just threw what I had on hand in a casserole and baked up a delicious and HEALTHY dinner. My husband even commented that this was probably the healthiest dinner I had ever made. This dish is Soooooo versatile. Add what ever veggies you have on hand and it would be fine. Mushrooms, carrots,yellow squash etc. would have been great. But what you see in the picture is all I had to throw in. Quick and easy, yep sure was!
Chicken and Vegetable Bake
1 1/2 pounds boneless skinless chicken boobs, cut into 1″ cubes
2 zucchini, cut into 1″ cubes
1 onion, roughly chopped
2 tomatoes(I am digging Ugly ripe right now), roughly chopped
Olive oil
5 or so sage leaves
Sprig rosemary
Thyme(about 1 tsp)
Garlic Powder
Kosher Salt and pepper
Balsamic Vinegar(a few shakes)
Preheat oven to 400
In large bowl toss all ingredients (except tomatoes) including herbs and spices with olive oil.
Put in casserole dish and add tomatoes.
Bake for 30 minutes
**again add what ever veggies you have on hand*