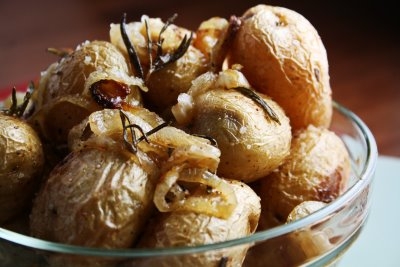 Tired of boring old baked taters? I think they are too big and I end up piling on the butter and sour cream thus totally ruining all nutritional goodness. I have said it before that potatoes hate my ass and hips. However, I find if I make little ones that are packed with flavor, I will eat less.
Well let me say these bad boys are D-E-L-I-S-H!! I guarantee you will love these!
ROASTED BABY DUTCH YELLOW POTATOES
Potatoes(as many as you wish to serve)
Olive oil
Fresh Rosemary Sprigs
1/2 to 1 sweet onion,sliced thinly
Kosher salt and pepper
Preheat oven to 375
In a medium bowl toss potatoes in olive oil to coat
Add in the remaining ingredients and toss together
Roast in oven on a baking sheet lined with parchment paper for 30 minutes or until fork tender.
Sprinkle with more Kosher salt when still warm.