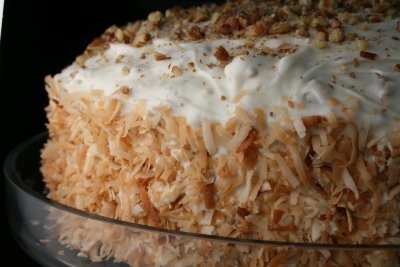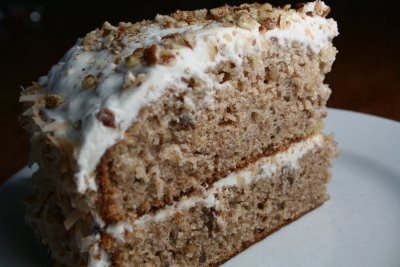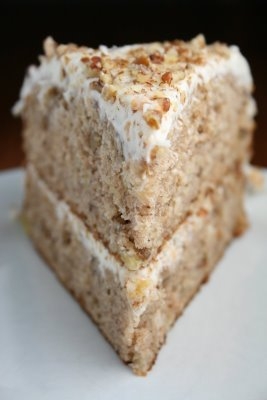 Why is this called a Hummingbird Cake? You got me. If you are a smarty pants and know the answer..let us know. It's not like you go out and find a bunch of Hummingbirds and blend em up in your food processor as an ingredient. Well, maybe Ozzy Osbourne would, but not us sound minded food folks.
I made this amazingly delicious cake for my Moms Birthday. She wanted a cake other than chocolate(I know, and she calls herself my Mom… tift!)
I think this cake should be renamed something like, Banana Cake on STEROIDS. For rizzle y'all, that's what it is, banana cake on steroids. Super moist and a nice spice to it. And the frosting is lick the bowl clean yummy. Oh and it is super simple and quick to make which is always a plus in my book.
HUMMINGBIRD CAKE
1 cup pecans, toasted and finely chopped
3 cups all-purpose flour
2 cups granulated white sugar
1 teaspoon baking soda
1/2 teaspoon salt
1 teaspoon ground cinnamon
3 large eggs, lightly beaten
3/4 cup safflower or canola oil
1 1/2 teaspoons pure vanilla extract
1 – 8 ounce can crushed pineapple, do not drain
2 cups mashed ripe bananas (3-4 medium sized bananas)
Preheat oven to 350 degrees F and place the rack in the center of the oven. Butter or spray two – 9 x 2 inch round cake pans and line the bottoms of the pans with a circle of parchment paper.
Place the pecans on a baking sheet and bake in the oven for about 8 minutes or until lightly browned and fragrant. Let cool and then chop finely. Set aside.
In a large bowl whisk together the flour, sugar, baking soda, salt, and ground cinnamon. Set aside.
In another large bowl, mix together the eggs, oil, vanilla extract, pineapple, mashed bananas, and finely chopped pecans. Add the wet ingredients to the flour mixture and stir until combined. Evenly divide the batter between the two prepared pans and bake for about 25 to 30 minutes or until a toothpick inserted in the center of the cake comes out clean.
Remove from oven and let cool on a wire rack. After about 10 minutes invert the cakes onto the wire rack, remove the pans and parchment paper, and then cool completely before frosting.
Pecan Cream Cheese Frosting
1/4 cup unsalted butter, room temperature
8 ounces cream cheese, room temperature
1 pound box confectioners sugar, sifted
1 teaspoon pure vanilla extract
1/2 cup finely chopped pecans
Garnish: (Optional)
Pecan halves
Toasted Coconut
In the bowl of your electric mixer (or with a hand mixer), beat the butter and cream cheese, on low speed, until very smooth with no lumps. Gradually add the sifted powdered sugar and beat, on low speed, until fully incorporated and smooth. Scrape down the sides of the bowl as needed. Beat in the vanilla extract and then stir in the finely chopped pecans.
To assemble: place one cake, top side down, onto your serving platter. Spread with about a third of the frosting. Gently place the other cake layer, top of cake facing up, onto the frosting, and spread the rest of the frosting over the top and sides of the cake. Can garnish with pecan halves. And the sides with the toasted coconut. Refrigerate the cake for about one hour so the frosting has time to set.
Recipe Source Joy of Baking