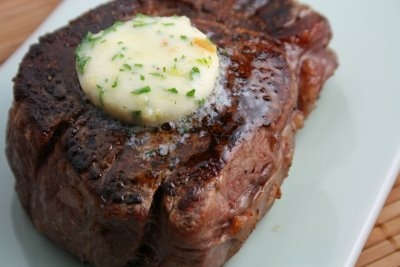 My veggie friends…please look away..**Gross yucky meat alert!!!**
Waaaahhhhoooooo.Filet was on sale today for $13.99 a pound! I usually buy Ribeyes, but this was too good of a deal to pass up. I was going to do the whole steak house dinner thing, ya know, steak, creamed spinach and onion rings, but it just didn't happen.
Filet is the King(or queen, to be politically correct) of all beef. Cuts like buddah!
I have a few rules to cooking the perfect steak
1)Start off with a SUPER HOT cooking surface. I get my grill with a cast iron flat plate to 500
degrees
2)ALWAYS bring your meat to room temperature prior to cooking. This ensures even cooking.
3)Less is more. Drizzle with canola oil, and put a nice thick coat of kosher salt and freshly
ground pepper(ok, seriously, do any of you foodies even have a pepper shaker in your
house??????????????????)
4)Don't flip..place the steak on your cooking surface and resist the urge to flip it
Let it sit there and form a nice crunchy crust. About 4 minutes. Then flip and don't you dare
touch it. DON'T DO IT. you want the nice same crunch on the opposite side.
5)Let your meat rest before cutting into it. I know it might be difficult to wait, me being quite
impatient, this took a while to get used to. But if you cut into meat that has not rested, it will
look like a blood bath on your plate because the juices didn't redistribute.
Now I know I have said it before I like my steak rare! Cut off its horns and wipe its ass and slap it on my plate RARE! Others might mike it a bit more "done". In my opinion, a steak over medium is ruined and I might as well be eating the bottom of a shoe. mmm tasty.
I made a yummy compound butter to go on top.
1 stick butter
juice and zest of 1/2 of a lemon
2 tablespoons fresh parsley
2 cloves garlic minced and sauteed in butter
Salt and pepper
Mix all ingredienst together and place on a sleet of cling wrap. Form into a log by rolling inbetween the cling wrap and freez until hard.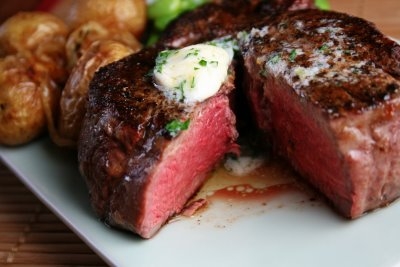 And I leave you with a photo of me and the kids. Good lord, my kids are always in their undies. Are yours?
What could we be doing staring in the oven?
2 words…….SHIRNKY DINKS.
Do y'all remember those? I bet you haven't thought of them in years. Well they are just as fun as when I was a kid!!!