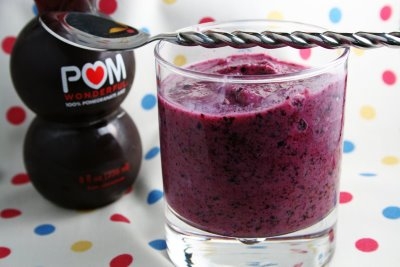 Blueberry-POM Smoothie
1 container light/fat free vanilla yogurt
1/2 cup POM juice
1 cup ice
1 cup frozen blueberries
1/4 cup Wheat germ*
Mix together in blender and enjoy!
I love love love wheat germ.it is a great source of fiber, folic acid and vitamin E and lends a yummy nutty taste.
Thanks to the POM folks for sending me a big ol case of POM juice. I love the juice and Pomegranates. However getting the arils out of the Pomegranate is a royal pain in the ass and for some reason when I do, my fingers turn green! HUH? Does this happen to anyone else? Bizarre. If you are unaware of off the super dupper health benefits of Pomegranates, then click
here
and read all about them.