Dear Butternut Squash,
Please accept this letter with my sincere heart felt apologies.
In all of my years of grocery shopping, I have always passed you by. Sticking up my nose at your bulbous, misshapen body. Why did you not yell out my name as I walked on by. Throwing yourself off the shelf to roll in front of my cart wheel in almost a suicide attempt to get my attention would have possibly worked.
I am not sure what did it the last time. Maybe it was the twinkle in your root, the shimmer of your skin. But I thank you for hopping in my buggy. I know you were sad to leave your friends behind. But not to worry, I will bring them home on the next trip, because I will never again pass you by. Never, I promise!
Love Forever,
Your new BFF
Leslie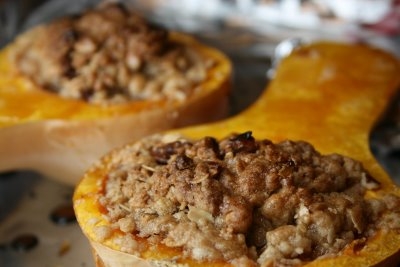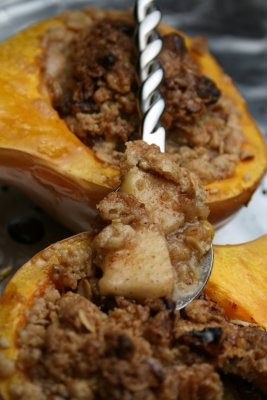 Will you look at that puddle of butter!!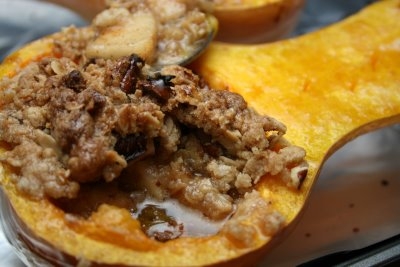 Once I got my beloved Butternut squash home. I really had no clue what to do with it. There was soup and risotto that came to mind. But I was having a sweet tooth. So I used my new BFF as a vehicle to hold my cinnamon, apple, butter crumb topping mixture. OH MY GOD was this good.
I gave myself a big pat on the back after this one. Nothing was left but the skin after the husband and I devoured it.
ROASTED BUTTERNUT SQUASH APPLE CRISP
Serves 2
Recipe by me
1 Butternut Squash
1 apple, chopped, divided
1/2 teaspoon cinnamon
2 Tablespoons Butter, divided
REAL maple syrup
Preheat oven to 350
Cut squash down the middle. Scoop out the membrane and seeds.
In a bowl mix together apples and cinnamon and equally divide them between the 2 squash in the cavities you created when you scooped out the seeds.
Place 1 Tablespoon of butter on top of the apples on each squash.
3/4 stick butter
3/4 cup flour
1/2 teaspoon pumpkin pie spice
2 Tablespoons Sugar
2 Tablespoons Brown Sugar
3 Tablespoons Instant Oats
1/4 cup Toasted Pecans
With a pastry blender or 2 forks, mix together butter and flour until it resembles peas. Add all of the other ingredients and mix well.
Mound crumb topping over apple mixture.(you will have left over topping mixture)
Drizzle maple syrup over the crumb topping and over the Butternut Squash
Bake for 45 minutes.