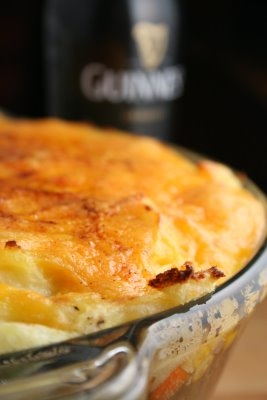 I gave you a little tease on St. Pattys day about my Shepherds Pie. Well here she is in all her glory. Do you hear the bag pipes in the distance?? Or was that angels singing? What ever it was, you will hear glorious music when you bite into this casserole.
Many a years I have been completely drunk at the Irish Pub for "The Holiday", insisting on eating the Shepherds Pie they plop on my plate. And to be honest it is always bland and nasty to be quite honest. But I still feel the need to order it. I suppose it is some sort of tradition.
A few years back I was on a mission to make a more flavorful version of the gruel. And I think I hit the nail on the head with this one folks. Try it and I think you agree, it is FABULOUS. And if you don't agree, well then you have serious issues! Sick Psychiatric issues!!!!!!!!!!!!!!!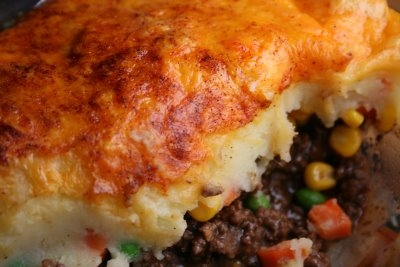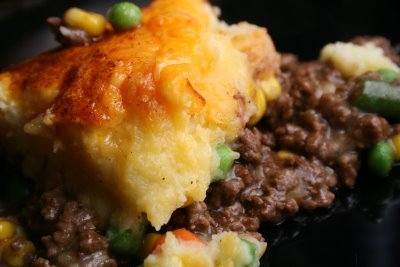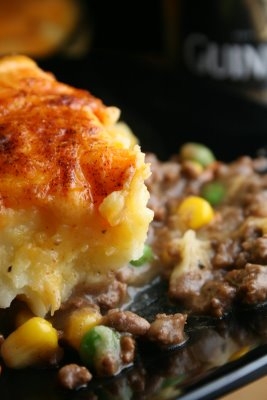 The Hungry Housewife's Guinness Shepherds Pie
1 ½ pounds Organic ground beef 80/20
1 (1lb) bag frozen mixed vegetables, thawed
2 packets of dry Brown Gravy Mix
1 medium onion
Olive Oil
2 bottles Guinness Beer
2 Tablespoons Tomato Paste
2 cups Sharp Cheddar Cheese
3 pounds baking potatoes
¼- ½ cup milk
1 stick butter
Salt and pepper
Preheat oven to 375
To make Potato filling…
Boil the potatoes in slated water until fork tender. Drain completely and place back in pot so all of the water evaporates.
In a medium mixing bowl add butter and potatoes. Mash until smooth, while adding the milk for a medium consistency. Add salt and pepper.
Meat filling…
Cook and drain ground beef.
Place drained beef back in skillet and add 1 bottle of Guinness. Cook until beer has almost cooked out.
Add tomato paste to meat
In a medium sauce pan, prepare the brown gravy according to package directions,
however, use beer for half the liquid called for( 1 cup water, 1 cup beer)
Pour gravy into meat mixture. And cook all together until you get a nice thick gravy.
In medium skillet with olive oil sauté onions until soft and translucent.
Add mixed vegetables to the onions and cook until warm throughout.
In a 2 quart baking dish, add meat as bottom layer, the add vegetables, and then add the mashed potatoes. Top with Shredded cheese.Cook at 375 for about 20 minutes or until cheese in nice and bubbly