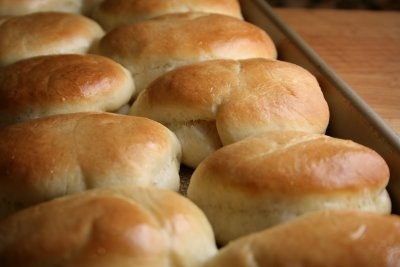 Waaahhhh. Easter was last week? Oh yeah, that's right. My bad y'all. Things are crazy around here. But better late than never.
We had Easter lunch at my mother-in-laws house this year. Ya know, sometimes it is nice being entertained and not the entertainer. So my contribution for the feast was simple. I brought homemade Parker House Rolls and a Coconut Cake with Coconut Cream Cheese Frosting.
I have never made fresh rolls before. But with my trusty Bible in hand (a.k.a Joy of Cooking) I was able to whip them up in a snap. Ok, its not really a snap, but they were well worth it. The actual process is super easy(as long as you use your stand mixer), but the waiting time is the killer. From start to out of the oven it was exactly 2 hours. And I am gonna fess up on a secret, I did purchase some frozen bread dough just in case they failed. But they were a winner. So the frozen bread dough remains in the freezer, awaiting its fate.
On to the cake. I made the same coconut cake listed here. It's Paula Deen's Coconut Cake and it is a no fail recipe. However this time I didn't do the 7 minute frosting. I am not a fan of it at all, I made a coconut cream cheese frosting that was yummo. And unlike my normal perfectionist self, I threw my towel in and made the cake cutsie for the kids, and didnt worry about all of the messiness that was going on with this cake.
My vision for the cake was …the green coconut as the grass, the peeps frolicking in the grass, blue frosting as the sky and the coconut on top as the clouds Get it? No? O.K maybe it was just my vision in my own little whacked out head. But the kids got a kick out of it.
The recipes for both are below the photos
1 package (2 1/4 teaspoons) active dry yeast
3 tablespoons warm water
Add:
1 cup whole or low-fat milk, warmed to 105-115 degrees
5 tablespoons melted butter or margarine
3 tablespoons sugar
1 large egg
1 teaspoon salt
Mix 1 minute by hand.
Gradually stir in:
2 cups bread flour
Then add:
1 1/2 cups more bread flour
Knead about 10 minutes by hand or with dough hook. Transfer to oiled bowl. Cover loosely with plastic wrap. Let rise until doubled in volume, 1-1 1/2 hours. Punch the dough down, knead briefly, then refrigerate, covered, for 30 minutes.
Divide dough into 18 pieces about 1 ounce each. Roll dough pieces into balls, loosely cover with oiled plastic wrap, and let rest 10 minutes. Grease a baking sheet. With a rolling pin or a dowel, roll just the center of each round to create an oval. Edges should be slightly thicker than the center. Brush tops lightly with melted butter and fold the ovals in half so the two ends meet. Let rise until doubled in volume, about 1 hour. Preheat oven to 425 degrees. Brush tops with melted butter or milk. Bake until golden brown, about 15 minutes. Makes 18 rolls.
Paula Deen
Click
here
for the recipe
Coconut Cream Cheese Frosting
Epicurious
3 8-ounce packages Philadelphia-brand cream cheese, room temperature
3/4 cup (1 1/2 sticks) unsalted butter, room temperature
2 cups powdered sugar
3/4cup canned sweetened cream of coconut (such as Coco López)
1 teaspoon vanilla extract
1/2 teaspoon (scant) coconut extract
Beat cream cheese and butter in large bowl until smooth. Beat in powdered sugar, then cream of coconut and both extracts. Chill until firm enough to spread, about 30 minutes.