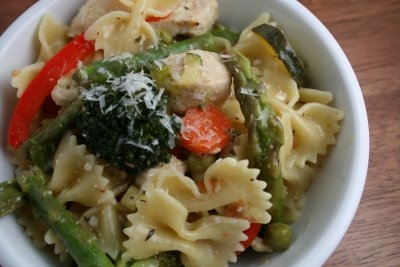 DO NOT make this meal when…..
1. Your husband is not home for work yet to entertain the kids while you cook.
2. It is no T.V. week at home.
3. Your oldest shuts your youngest finger in the front door.
4. Your youngest decides to spill an entire package on mini chocolate chips on the floor.
5. You step on that piece of glass on the floor from a plate that broke 2 months ago, when you swear all of it was vacuumed up.
6. The bowl of jelly beans falls off the table.
7. Your oldest thinks it would be funny to slap your butt really hard when you are using your chefs knife to cut a red pepper, in turn, slicing your finger.
8. Your youngest thinks its fun to cut one of those thin static-y produce bags into one million pieces.(um yeah, try picking that up)
8. And most importantly DONT NOT MAKE THIS MEAL WHEN YOU ARE P.M.S' ing.
Good mighty heavens above, it took me over two hell-ish hours to cook dinner tonight. It was good and all, but DAMN!!
Ohhh, Happy day!
CHICKEN GIARDION
(Olive Garden)
Ingredients
Sauce: ****I made double batch of this sauce****
1 Tbsp butter
¼ tsp dry thyme
½ tsp fresh rosemary, finely chopped
1 tsp garlic pepper
1 Tbsp cornstarch
¼ cup chicken broth
¼ cup water
¼ cup white wine
1 Tbsp milk
1 tsp lemon juice
Salt and pepper to taste
Chicken:
2 lbs boneless, skinless chicken breasts, sliced width-wise into ½" strips
¼ cup extra-virgin olive oil
2 small rosemary sprigs
1 clove garlic, finely minced
Juice of ½ lemon
Vegetables:
¼ cup extra-virgin olive oil
½ bunch fresh asparagus (remove bottom inch of stem; cut remainder into 1" pieces)
1 zucchini, julienne cut
1 yellow summer squash, julienne cut
2 roma tomatoes, cut into ½" pieces
½ red bell pepper, julienne cut
1 cup broccoli florets, blanched
½ cup frozen peas
1 cup spinach, cut into ½" pieces
½ cup carrots, julienne cut
1 lb farfalle pasta (bow ties), cooked according to package directions
Procedures
Sauce Preparation:
MELT butter in a sauce pan over medium heat. Stir in thyme, garlic pepper and rosemary. Whisk to thoroughly blend and cook for 1 minute.
COMBINE chicken broth, water, wine, milk, and lemon juice in a mixing bowl. Add cornstarch and whisk until cornstarch has dissolved and there are no lumps.
ADD liquid mixture to sauce pan. Whisk all ingredients together and bring to a boil. Season with salt and pepper to taste, then remove from heat.
Chicken & Vegetables Preparation:
COMBINE all chicken ingredients in a mixing bowl and blend well.
MARINATE for 30 minutes.
HEAT a saute pan over medium high heat. Add ¼ cup extra virgin olive oil.
SAUTE chicken strips until internal temperature reaches 165°F.
ADD all vegetables and sauté until cooked through.
ADD cooked, drained pasta and sauce to sauté pan. Stir until pasta is thoroughly coated with sauce.
TRANSFER to a serving platter and garnish with chopped parsley.