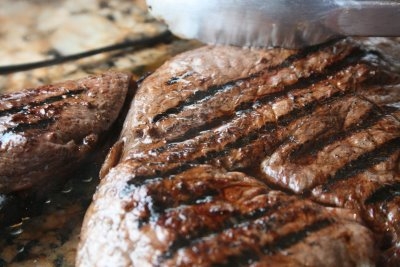 DONT FORGET MY AWESOME GIVEAWAY FRIDAY!! (I'm so excited!)
I love love love steak. My favorite cut is the ribeye, HANDS DOWN.
But my favorite lean cut is Sirloin (pictured above). It is such a versatile cut of meat that you can do just about anything with. I prefer mine on the grill. I used to slather my steaks with all sorts of seasonings. But now the only thing I ever put on my beef is Kosher Salt and freshly cracked ground pepper. There is no need to hide its wonderful flavor with all the other junk.
And how do I eat my meat?? Cut of its horns, wipe its ass and slap it on my plate! Yes I like my beef rare, I always have. The second it gets cooked over medium, it is ruined in my opinion!
Sirloin is also very low in fat when it comes to red meat for 3 ounces it only has 1.9 g of saturated fat and 4.9 g of total fat. Not too shabby for such a flavorful cut of beef.
Check out this neat little cheat sheet of all of the lean cuts of beef that lists the fat content of 29 cuts of beef.
Also take a gander at this, a nifty cooking guide on how different cuts of lean meat can be prepared in a variety of ways. Very cool!
Here are a few beef recipes that I found on Beef Its Whats For Dinner that peaked my interest
Beef and Smoked Mozzarella Stuffed Focaccia
Beef Spring Rolls with Carrots and Cilantro
Stockyard Steaks with Mushroom and Peppercorn Sauce
Please take a look at Beef Its Whats For Dinner , anything and everything you ever wanted to know about beef is there, including a TON of recipes!!!!