I am first going to apologize to my veggie lovin friends. My next 3 posts are going to be all about beef. But my carnivore friends will love them. However, have no fear veggie friends, at the end of the week I will be having a VERY generous giveaway.
I was contacted by the Cattlemen's Beef Board and National Cattlemen's Beef Association to help get the word out about LEAN BEEF. That's right, not all beef is Fatty Patty Beef McFatty!
I don't know about you but I often stare at the meat case, not knowing what meat is what.
So check out Beef Its Whats For Dinner for all of your life's burning questions about beef and for some great recipes.
Everyone loved the dinner. My husband said it reminded him of a really good Hamburger Helper( I don't think I have even bought Hamburger Helper in probably 10 years).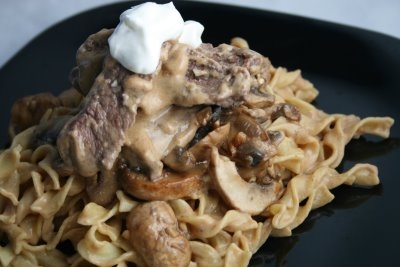 Sorry the photo is sooo BLAH. You see, me and beef have a beef. I cant seem to photograph it very well.
EASY BEEF STROGANOFF
1 pound beef round tip steaks, cut 1/8 to 1/4 inch thick
1 clove garlic, minced
4 teaspoons vegetable oil
1/4 teaspoon salt
1/4 teaspoon pepper
1/2 pound mushrooms, sliced (1/2-inch)
1 package (3/4 ounce) brown gravy mix
4 cups uncooked wide egg noodles (about 5 ounces), cooked
1/4 cup dairy sour cream
Instructions
Stack beef steaks; cut lengthwise in half, then crosswise into 1-inch wide strips. Toss with garlic.
Heat 2 teaspoons oil in large nonstick skillet over medium-high heat until hot. Add 1/2 of beef; stir-fry 1 minute or until outside surface of beef is no longer pink. (Do not overcook.) Remove. Repeat with remaining beef. Season with salt and pepper.
Heat remaining 2 teaspoons oil in same skillet over medium-high heat until hot. Add mushrooms; cook and stir 2 minutes or until tender. Remove from heat. Add gravy mix and 1 cup cold water; blend well. Bring to a boil. Reduce heat; simmer 1 minute or until sauce is thickened, stirring frequently. Stir in beef; heat through. Serve over noodles. Pass sour cream.
*****I actually added the sour cream to the brown sauce.
Make sure to use lots of salt and peper!
Nutrition information per serving:
383 calories; 16 g fat (5 g saturated fat; 5 g monounsaturated fat); 109 mg cholesterol; 420 mg sodium; 30 g carbohydrate; 2.0 g fiber; 31 g protein; 6.2 mg niacin; 0.4 mg vitamin B6; 1.4 mcg vitamin B12; 3.7 mg iron; 48.7 mcg selenium; 4.7 mg zinc.
This recipe is an excellent source of protein, niacin, vitamin B6, vitamin B12, iron, selenium and zinc