Never in my life would I have ever thought I would buy another pack of Ramen noodles. Remember Ramen noodles? I ate my fair share of cases and cases of them when I moved out after High School. Spending more money on beer and alcohol was totally a priority. Who needed a well balanced meal? I am surprised I don't have some sort of High Blood pressure issues because of them because and their high sodium content.
However, this recipe called for 2 packs of them. So I decided to throw caution to the wind and act like I was 20 again! Hey, they are still really cheap, .24 a pack. Hmmmm, maybe I should start living on them again to try to save some money.
This meal was surprisingly very good. The meat had a great flavor. I did add another Flavored Sodium packed to the noodles while they were cooking which the recipe didn't call for. And it totally needed it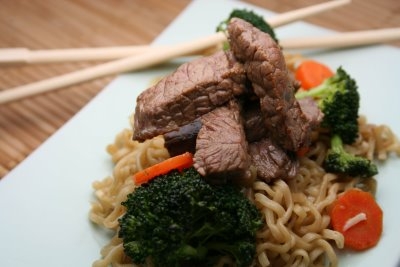 ASIAN BEEF AND BROCCOLI WITH NOODLES
1-1/4 pounds beef top round or top sirloin steak, cut 1 inch thick
2 packages (3 ounces each) Oriental-flavored instant ramen noodles, broken up
1-1/2 teaspoons cornstarch dissolved in 1/2 cup water
2 tablespoons vegetable oil
1/2 pound broccoli florets
2 medium carrots, thinly sliced
1 teaspoon grated orange rind (optional)
Cut beef steak lengthwise in half, then crosswise into 1/8-inch thick strips. Combine seasoning from ramen noodles with cornstarch mixture in large bowl. Add beef; toss.
Heat 1 tablespoon oil in large nonstick skillet over medium-high heat until hot. Stir-fry broccoli and carrots 1 minute. Add noodles and 1-1/2 cups water; bring to a boil. Reduce heat; cover and simmer 3 to 5 minutes or until vegetables are tender and most of liquid is absorbed, stirring occasionally. Remove; keep warm. **don't forget to add a season packet to the noodles.**
Heat remaining oil in same skillet over medium-high heat until hot. Drain beef, discarding marinade. Stir-fry 1/2 of beef 1 to 2 minutes or until outside surface of beef is no longer pink. (Do not overcook.) Remove. Repeat with remaining beef. Serve over noodles. Sprinkle with orange rind.
Nutrition information per serving, using beef top sirloin steak: 431 calories; 19 g fat (7 g saturated fat; 5 g monounsaturated fat); 50 mg cholesterol; 933 mg sodium; 35 g carbohydrate
Don't forget to visit on
Friday for a GREAT Giveaway!!