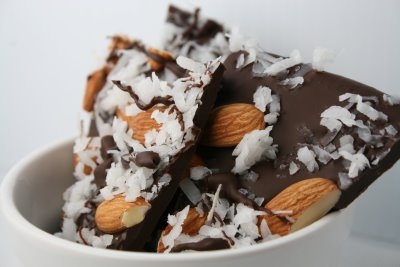 DONT FORGET MY $100 GIVEAWAY!!!
My Peppermint Bark was soooo yummy when I mad it during the holidays. It was a Huge hit.
I was watching the Food Network today, and Big Daddy's house was on. He made a bark with cherries, almonds and something else, I just don't remember what it was. A light bulb went off in my head, so I ran to a piece of paper and wrote down my idea. You see, if I don't write things down, I totally forget everything! Sometime I even forget why things are on my list. Yes, It is BAD!
So my Almond Joy Bark has probably been done before. But I didn't even check on google, because I wanted to think I came up with something original damn it! So don't go bursting my bubble, k?
ALMOND JOY BARK
12 oz semi sweet chocolate, chopped
1/4 tsp coconut extract
1/8 tsp almond extract
1/2 cup almonds
1/2 cup coconut
Melt chocolate over double boiler. Add coconut and almond extract . Mix well. Spread over a cookie sheet lined with parchment paper. Don't worry about spreading it to the edges. Spread it however thick you want it to be.
Sprinkle with almonds and coconut.
Throw it in the fridge for 45 minutes to harden. And chop it up into shards when hard!
This takes like 5 minutes to throw together and it is sooooooo very addicting!!!