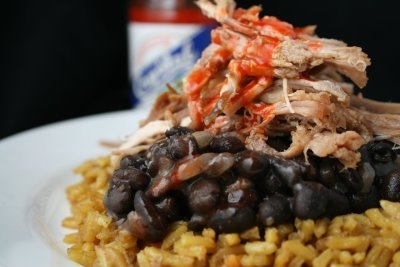 Soon after moving to Tampa, I discovered a whole new world of food..CUBAN FOOD.
Tampa has a large Cuban community and their food is a staple in this town. Growing up I had never heard of chicken and yellow rice, cafe con leche, deviled crabs, plantains, etc. Was I deprived, naaaaa, I was just missing out on a whole bunch of yummy food.
So if you are Cuban, I am sure this is not the authentic way to make Roast Pork with Black Beans and Yellow Rice, but it my way and it tastes damn good (and it takes like the Cuban restaurants).And sorry about the photo, the food wouldn't corporate and was being shy(kinda of a blah picture)
ROAST PORK WITH BLACK BEANS AND YELLOW RICE
PORK
4-5 pound Boston Butt
Preheat oven to 350
Generously season meat with Adobo Seasoning. Place in a dutch oven(or large pot w/ lid) along with the mojo criollo, cover and cook per package directions on meat. I think it is 22-26 minutes per pound.YELLOW RICE
Mojo Criollo
Cook per package directions..HOWEVER..dont use all water like the package calls for, use 1/2 water and 1/2 Mojo Criollo.
The rice already has wonder flavor, but using 1/2 water and 1/2 mojo gives it a great kick!
BLACK BEANS
1 Tbsp Olive oil
1 onion, diced
2 garlic cloves, minced
2 Tbsp cumin
2 bay leaves
In a medium sauce pan over medium heat, saute onions in olive oil for about 10 minutes. Add Garlic and cook for 2 minutes more. Add cumin. Add Beans,bay leaves and mojo.
Simmer for about 10 minutes, until beans are soft.
Oh and don't forget the Crystal Hot sauce! NO Cuban meal is complete without it!!!
Make this meal and your family will love you(and me ) for it!!!!
(recipe by Leslie)