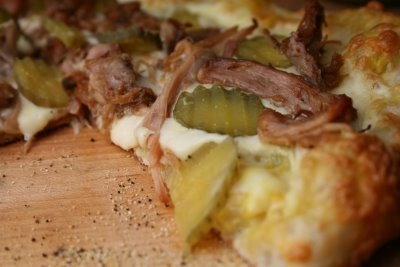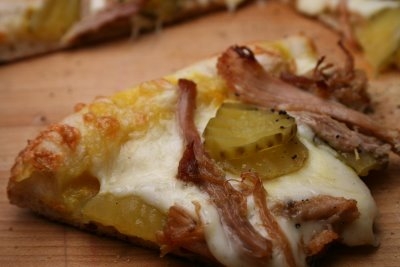 Have you tried my
Roast Pork with Black Beans and Yellow
rice yet? No? Shame on you..I don't want to be your friend anymore( Yeah, I am at home with sick kids and a sick self, so I am feeling a bit childish!)
Well if you did make it you probably had some left over pork. And here is an interesting way to use it up.
So you know my husband, the one who cant boil water, the one who doesn't even grill?? Uh Huh, that's the one. He said many moons ago he ate "Cuban Pizza" at a baseball game. Well it sounded totally disgusting me me. But I will give anything a try once(ok, well maybe not anything, but you get the picture). Cubans..no not the people..the sandwich is another Tampa food. The Wikipedia definition is… a sandwich created by Cuban workers, either in Cuba or in the immigrant community of Ybor City in Tampa Florida. Later, Cubans brought it to other communities in southern Florida, particularly Key West and Miami where it is very popular. The sandwich is made with ham, roasted pork, Swiss cheese, pickles, mustard, and sometimes salami on Cuban bread.
So Cuban Pizza it was and I just so happened to pick up some pizza dough from the bakery, so I was ready to go.
Let me tell you how wrong it felt spreading mustard over a pizza dough! I was actually grossed out. But with an open mind, I continued……
CUBAN PIZZA
1 Pizza dough
Mustard
A bunch of Mozzarella and some Swiss cheese
Dill Pickles
Left Over shredded Roast Pork
Adobo Seasoning
Preheat your oven to 500 and put your pizza stone on the bottom rack. Preheat for a good 30 minutes.
Roll out your pizza dough.
Spread is with a nice helping of mustard( I know I know..just trust me on this one)
Cover it with the mozzarella and Swiss cheese
Put on the pork and pickles
Sprinkle with a bit of Adobo Seasoning.
Bake in the over for about 6-8 minutes or until the crust is browned.
DAMN IT, my husband was right(again), it was delicious!!!!