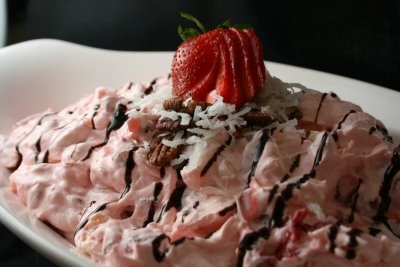 Too cold outside to run and get ice cream? In Florida, it is never too cold for ice cream. But I am sure in like Maine where you are freezing your ass off, the last thing on your mind is a big ol bowl of Rocky Road? So I present you will your alternative, Banana Split salad. I could literally shove my face in this bowl and lick it clean. SERIOUSLY! And it is from Paula Deen so you know it has to be ridiculously yummy!
I just had a memory pop into my head..I remember in High School, me and my dear friend Patti(rest her soul) would sit on the couch and eat a pint of ice cream(a pint each), sulking because our boyfriends didn't call(bastards..you know who you are:) ). Countless times this happened. Remember those days of jerky boyfriends and fast metabolisms!!!???????
Enough rambling..on to the recipe….make it and you will drool! Promise!
BANANA SPLIT SALAD
1 can sweetened condensed milk (14-ounce)
1 container frozen whipped topping (12-ounce) thawed
1 can cherry pie filling (21-ounce)
3 medium bananas sliced
1 can crushed pineapple (8-ounce) drained
1/2 cup chopped pecans (toasted)
1/2 cup shredded sweetened flaked coconut
1 cup sliced fresh strawberries
Garnish: chopped pecans — shredded coconut, sliced strawberry and a drizzle of chocolate syrup
In a large bowl, combine milk and whipped topping until well blended. Fold in next 6 ingredients, and chill until ready to serve. Garnish with pecans, coconut, and strawberry, if desired
ENJOY!