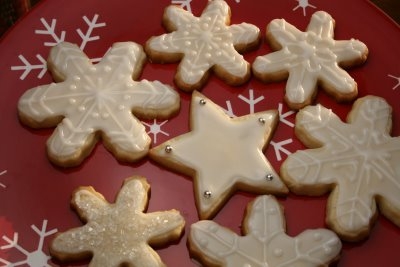 Disclaimer—-If you get offended by curse words stop here!!!! And don't judge me for my awful piping skills! If you do, I will hunt you down and beat you with my wooden spoon!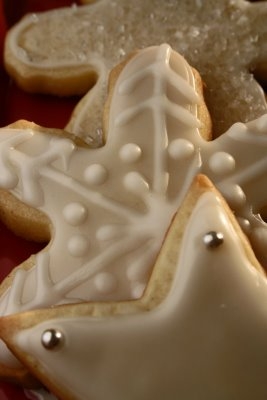 Sooooo, I thought I get in the Christmas Spirit and make Fancy Decorated Sugar Cookies.
With all of my baking adventures, I have never made decorated cookies or worked with cut out cookies. Hmmmmm, wonder why?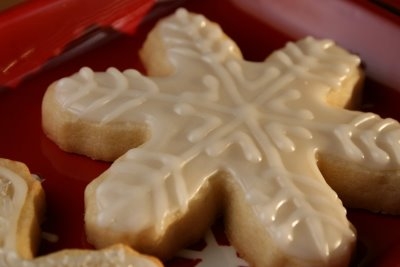 I see this post and this post over at Our Best Bites, and I was inspired. She gives a wonderful tutorial on both the cookie making and the glazing. And her cookies are adorable. Check them out.
Ok so enough being nice. As I am still a little bitter! Making the dough was a cinch. Throw everything in my KA mixer and in 2 minutes its done and into the fridge to chill.
Geeze..this is easy peasy. Holiday Cheer and Joy is flowing!!!
8 pm. This is when the first pain in the assness begins. The dough was too hard to roll. So I let it sit out for a bit so I could roll it. Ditzo me left it out for toooo long and it got too soft to roll. DAMN IT! Back in the fridge. The my daughter proceeds to blow across the floured counter top. And now it is snowing flour in my kitchen. Oh, Happy days!(can you sense my sarcasm??)
After the second blast of fridgid air from the fridge I get the rolling and cutting down pat. Ohh, yeah, I am so doing this! I get all my cookies baked.(a double batch I might add, what the hell was I thinking??!!) I mix up the glaze and decide I want all white snowflakes. I love the look of white on white cookies. I also do all white Christmas lights. My husband wants colored on the tree, I want all white, I give puppy dog eyes, so we compromise and do all white!!! LOL
As I sit here reliving my piping hell and nursing my sore wrist, I vow never to make this many decorated sugar cookies, EVER AGAIN!
I piped the outline, let it dry. I glazed the center(which I now call the glaze, "self Leveling concrete", cause that it what it reminds me of. Let that dry, then pipe all the freekin decorations. All those damn snowflakes. I know that a 6 MONTH old could probably do a better job at piping.
But it is 12:15 am.(do you recall I started at EIGHT!! Over 4 hours to make cookies!!HUH) What do you want from me at 12:15 am! Let me tell you, there was NO MORE HOLIDAY CHEER flowing in my house. I am now traumatized from these cookies! Don't get me wrong they taste amazing. I just bit off more than I could chew. What else is new???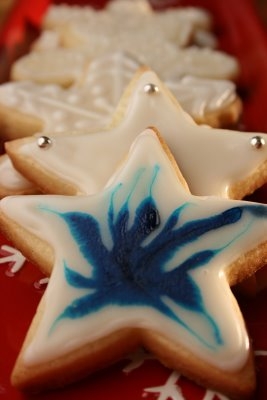 And at 12:15..I was sooo absurdly sick of my piping bag. I said screw it, and just painted on luster dust and called it a night.
1 C real butter
1 C sugar 1 egg
1 1/2 t almond extract (you could use vanilla too)
3 C flour
1 1/2 t baking powder
1/2 t salt
Cream butter and sugar until light and fluffy- about 2 minutes. Add in eggs and extract and mix to incorporate.
In a separate bowl combine flour, baking powder and salt and whisk to combine. Slowly add the flour mixture to the butter mixture and mix until completely combined.
Shape the dough into 2 flat disks and wrap in waxed paper and place in the fridge to chill for 1-2 hours.
When you're ready to roll out dough lightly sprinkle flour onto your work surface and roll out dough with a rolling pin.
Cut to your desired shape
Bake at 350 for 8-12 minutes.
Remove onto cooling racks when you're done and let cool completely.
Decorate as you like.
I doubled the above recipe. But I couldnt even tell you how many they made. Cause I didnt count. Again..I was flustered!
Glacé Icing
1lb powdered sugar (about 3 3/4 C)
1/4 C + 2T C whole milk (low-fat actually works, but use whole if you can)
1/4 C + 2T light Corn Syrup
1 t extract (I use almond because I use almond in my sugar cookies)
With a whisk, combine sugar and milk until smooth . Then stir in corn syrup and extract.You will use this same recipe for both glazing and piping. The way it is right now is the consistency you need it for glazing. Nice and thin.
To prepare the icing for piping, you just add more powdered sugar. You can't really mess it up because if it's too thick you just add more milk and if it's to thin, you add more powdered sugar.
It is ready for piping when it gets difficult to whisk.
Want to see what I WATED and wished my cookies to look like???Nice and fancy and all professional looking. Click
here.
I saw Sweet and Saucys post after my 4 1/4 hours of cookie hell. Talk about wanting to crawl under a rock!