While a LARGE amount of my money is funneled into Williams Sonomas glorious pockets, it will not be going to the purchase of their ridiculously expensive Peppermint Bark. Yes it is heavenly..but come on..us food savvy people can make our own for a fraction of the price. Sure, we wont be getting the cute trendy Holiday Tin to go along with it. But who the hell cares. Yours will be made with love people!!! All you need is love, all you need is love, love is all you need( cant you hear me singing in my best John Lennon?) Ohhh, how I love to sing, you might have seen me on American Idol 3 season ago..I made it in the top 50. HAAAAAAAAAAA. I kid…I know my family is peeing in their pants right now..Seriously, I suck a singing. If I went on American Idol, I would be one of those people in the blooper reel that Simon is ripping a new one!!! Enough rambling.tooooo much coffee this morning!!
Lets make some BARK.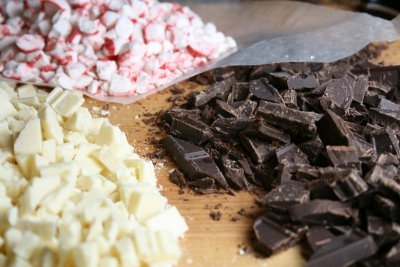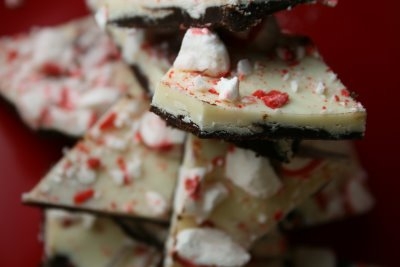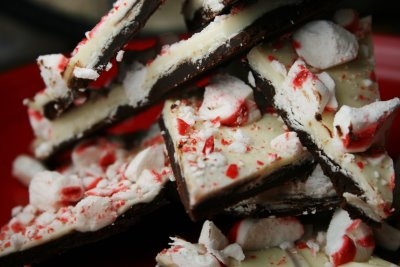 PEPPERMINT BARK
12 oz bitter sweet chocolate, finely chopped
16 oz white chocolate, finely chopped (NOT WHITE CHOCOLATE CHIPS)
1/4 cup whipping cream
1 tsp Peppermint extract
6 oz peppermint candies
Line a 13 x 9 baking pan with foil( use non stick foil), make sure you let the sides overhang so you can pull the bark out when its done.
In a heavy duty zip lock bag, crush the peppermints
In a double boiler, melt the dark chocolate, peppermint extract and whipping cream and stir until smooth
Pour the dark chocolate into the baking pan and evenly smooth out.
Place in the fridge for about 15 minutes to firm.
In a double boiler, melt the white chocolate and stir until smooth.
Remove the dark chocolate from the fridge and with a paper towel, blot off and moisture that has accumulated on the top.
Pour the white chocolate over the dark chocolate.
Sprinkle the peppermint candies over the white chocolate.
Place in fridge to firm for about 1 hour.
Remove and cut to your desired shape and size.
Store in the refrigerator in an airtight container.