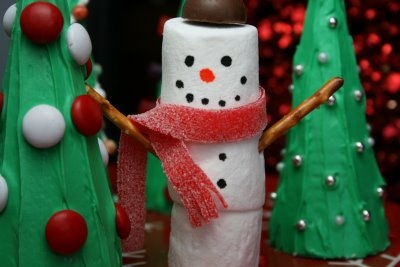 Another Holiday classic that you can do with your kids in under 2 minutes(cause we all know thats how long their attention spans are anyways!)
Since there is no snow here in Tampa, I resort to making Marshmallow Snowmen. Fills the void ya know!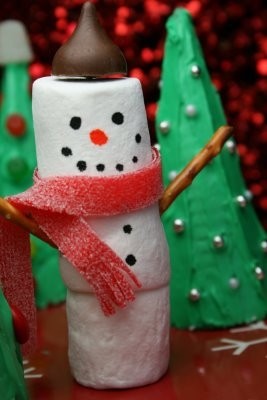 MARSHMALLOW SNOWMEN
3 large marshmallows
3 toothpicks
Edible Black and Orange markers(can find them at the craft store) or Black and Orange Tube writing frosting
2 small thin pretzel sticks
1 Sheet rolled fruit snack(such as a Fruit Roll Up) cut into a 1/4-1/2 inch long strip
1 Hershey's Kiss
Place 1 toothpick in the center on 1 marshmallow.
Place a marshmallow on the top of that toothpick.
Place a second toothpick through the center of the second marshmallow.
Place the 3rd marshmallow on top of the second.
Using the markers or the frosting, draw on two black eyes and 3 black buttons and a mouth. Using the orange marker or frosting draw on a nose.
Place the pretzels in sides of the middle marshmallow for the arms.
Drape the Fruit Roll up around the neck and arms of the snowman for a "scarf"
Place the 3rd toothpick through the middle of the top marshmallow and poke the Hershey Kiss on top to serve as his hat.
FUN FUN FUN