Dont forget to enter my NEW GIVEAWAY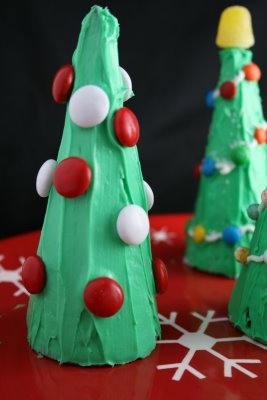 I know these cute little Ice Cream Christmas Tress have been around forever. Who even knows where they originated. But aren't they darling? The kids had such a great time with these, that is after they got past the sugar rush from eating the frosting by the spoon fulls!
I went to the candy store in the mall and went to town in all of the candy bins. It was easier to get what I wanted then to buy a bunch of bagged candy and pick through it.
These are quick and painless to assemble. Just make sure you decorate them before the frosting has time to dry. The decorations stick better when the frosting is wet.
Have fun!!! Oh and dont forget to enter my
CHRISTMAS TREE ICE CREAM CONES
Pointy Sugar Cones
Premade White Frosting
White Tube Frosting
Green Food Coloring
Assorted Candies for "Christmas Tree Ornaments"
Shredded Coconut
In a small bowl mix approximately 80 drops of green food coloring into the white frosting. Stir until the color is even.
Place the ice cream cone, pointy side up on a paper plate.
Frost the entire outside of the cone with the green tinted frosting.
Decorated with your desired candies