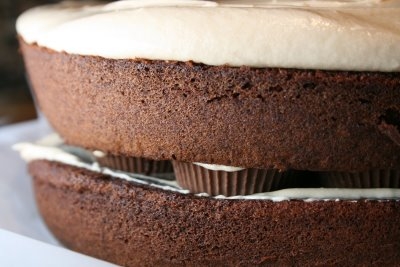 Do you see what I put in the middle??? Oh thats right..Whole Reese's cups!!! Evil I tell ya!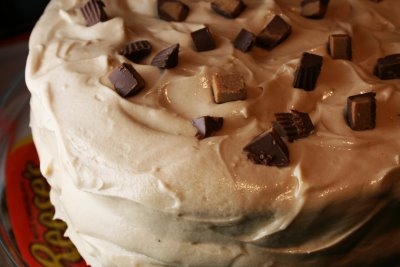 I thought I would come back with a bang! Another of my P.M.S creations (even though I made this cake for my hubbys b-day..Guys can have P.M.S,
right
?)
This cake was soooooooooo incredibly rich, even I couldn't eat a whole piece.(Now that's rare!)
I have this thing that I cant eat anything sweet without a HUGE glass of milk…and even with the milk, I couldn't muster up the energy to eat the whole thing. Ok, so what I am trying to tell you, cut the cake in really small pieces so you can eat it.
Another tip…Chop the Reese's before you put them in the middle of the cake. I loved the idea of them being whole, but it made it difficult to slice the cake.
Sooo, if you are in need of a sugar coma..go ahead and make this cake!!
Reese's Cup Cake with Peanut Butter Frosting
1 Box Duncan Hines Butter Fudge cake mix
1 small box COOK and SERVE Chocolate Pudding mix(not instant)
1 envelope Dream whip
4 large eggs
1/4 cup vegetable oil
1 cup water
9 Reece's Cups, chopped
Preheat oven to 325. Grease and flour 2 9″ cake pans
Place cake mix, dream whip, and pudding mix into large bowl and mix together.
Add eggs, water and oil and mix on high for 4 minutes with an electric mixer, scraping down the sides of the bowl if needed.
Pour evenly into cake pans.
Bake for 35 minutes or until toothpick comes out clean.
Remove cakes and cool completely on racks.
Place cakes in fridge to make nice and cold for the frosting.
Peanut Butter Frosting(Wilton)
1/3 cup vegetable shortening
1/3 cup butter, softened
3/4 cup peanut butter
3/4 cup milk
1 teaspoon vanilla extract
3 cups powdered sugar, sifted
Cream shortening and butter together.
Add peanut butter and vanilla.
Gradually add powdered sugar, once sugar has been added, add the milk to make it spreadable.
Remove the cooled caked from the fridge.
Frost the bottom cake on top.
Sprinkle the Reese's on top(leaving some for decorating the top layer)
Place the second cake on top.
Frost top and sides of cake.
Decorate with the remaining Reese's
*The frosting seperates easily, so pop the cake in the fride after you frost it, until about 1/2 hour before serving.*
One of my acquaintances, Grace shared with me the trick of adding the dream whip and pudding to the cake mixes. She bakes cakes on the side, and she told me she does it with all of her cakes, and it make them more moist, dense and takes that "boxed" taste away. And it makes it so much better than just a boxed mix made per the directions on the box.
So when I choose to use a boxed cake mixed, I prepare it in the above manner. I makes a HUGE difference, try it and you will see!