Alright, lets talk some food first! I had to jump on the fall food bandwagon!
I made the next two items for my second TV segment that should be airing closer to Thanksgiving(I promise I will get them up on my blog when the hubby figures out how to get them off the DVR).
Is that a turkey in my dip?? Yep, it sure is. Oh my word, let me tell you about this dip. It is evil, it is sooo good. Its like a fluffy pumpkin pie in a dip form. YUM! It is crazy quick and you can serve it up in a cute hallowed out pumpkin for a darling effect!
FLUFFY PUMPKIN DIP W/ CINNAMON SUGAR TORTILLAS
1 16 oz tub of cool whip,thawed out
1 5 ounce packet of Vanilla Pudding (instant)
1 can Libby's Pumpkin
1 1/2 tsp pumpkin pie spice
1/2 tsp vanilla extract
In a large bowl mix together pudding,pumpkin, pumpkin pie spice and vanilla.
Gently stir in Cool whip. This takes about 5 minutes to get the mixture smooth.
CINNAMON SUGAR TORTILLAS
Flour tortillas
Cinnamon Sugar
Butter flavored cooking spray
Preheat oven to 350.
Use a cookie or biscuit cutter to cut your tortillas into your desired shape.
Place them on a lined baking sheet.
Spray with butter flavored cooking spray.
Sprinkle with cinnamon sugar to your liking
Spray again with cooking spray to make sure cinnamon sugar sticks
Bake for 10 minutes or until lightly browned.
Enjoy the yumminess!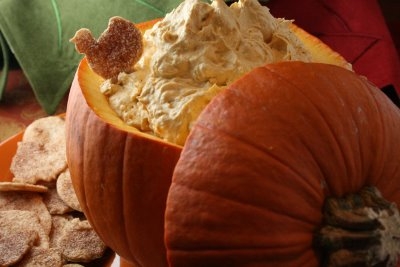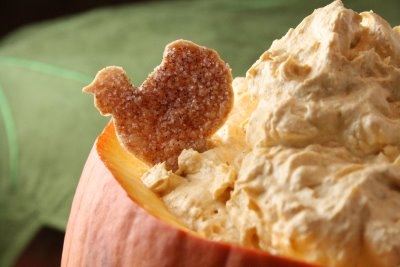 Arent these cute? They totally look like little acorns. I found this recipe in Family Fun
ACORN DOUGH NUTS
Chocolate Frosting
Donut holes(I used Pop ems)
Crumbled Toffee
Pretzels
Frost a third of the doughnut hole with chocolate frosting
Roll the frosted part of the doughnut in the toffee.
Break the curved part of a pretzel off and poke in the top of the doughnut so it looks like the stem.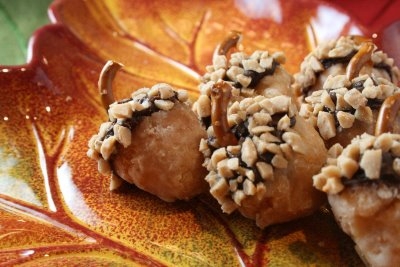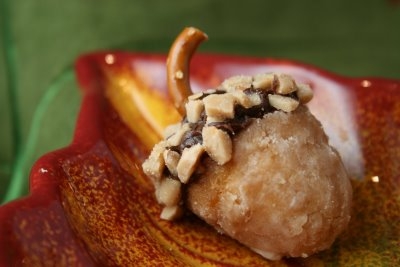 And I leave you with a picture of me and my little munchkin. Isnt she cute?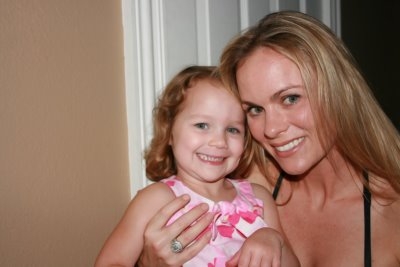 And on to the bad news(well it could be good news if you don't enjoy my blog)!
Well I have officially got sooooooo far behind with my blog I just cant catch up!!!!! Most of you know by now, that 99% of the time return every comment I get on all of my posts. I got behind on 3 of my posts. That is roughly 130 comments I have yet to return. And that doesn't include the 600 items on my google reader I have yet to look at on all of your wonderful blogs. And it makes me feel terrible.
I don't think it is fair for all of you wonderful people to read and comment on my blog if I cant return the favor. So if I cant blog my way I would rather not blog at all. I suppose it is my guilty conscious. I am not leaving for ever..I am just taking a break for now. PLEASE DON'T FORGET ABOUT ME!! 🙁 I will be back as soon as I catch up on some things!