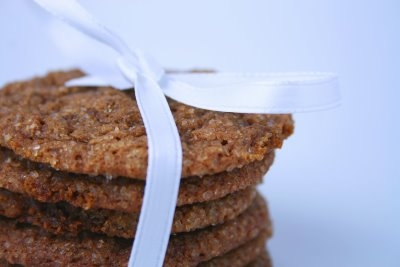 Gingersnaps remind me of all things Holiday, Ginger and cinnamon. They are warm and comforting morsels of goodness. I have never made Gingersnaps before, but when I saw these over at Baking Obsession, they had me smitten. Vera is such a talented woman so please take a gander at her blog, she will blow you away.
My cookies looked NOTHING like hers, no puffy or beautifully crackled cookies here. Just flat, flat, flat. However don't let the supreme flatness fool you. They are wonderfully chewy and moist with just a slight crisp around the edges! Perfect I tell you! However, I do warn you, they are extremely addictive. I had a difficult time waiting for them to cool down before I shoveled them into my pie hole!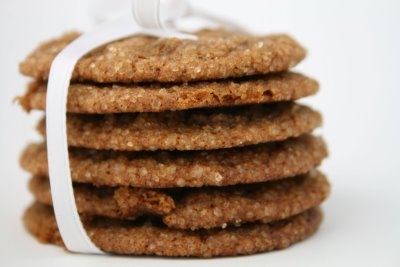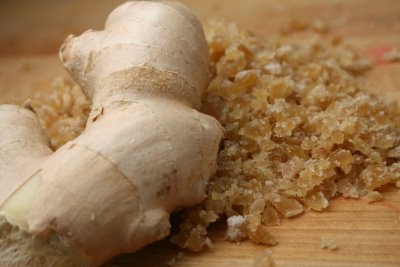 Ingredients:
2 cups (9 oz) all-purpose flour
2 tsp baking soda
2 tsp ground ginger
1 ½ tsp ground cinnamon
½ tsp ground allspice
¼ tsp salt
8 tbsp (1 stick; ¼-lb) unsalted butter, melted and just warm
¼ cup unsulfured mild or full-flavored molasses (I used organic blackstrap)
½ cup sugar
1/3 cup (2.3 oz) firmly packed brown sugar or light muscovado sugar
2 tbsp finely minced or grated fresh ginger root
1 large egg
¾ cup (4 oz) finely chopped crystallized ginger (1/4-inch dice)
About ½ cup Demerara or turbinado sugar for rolling
Preparation:
Center an oven rack and preheat the oven to 350F. Line the baking sheets with parchment paper.
In a medium bowl, combine the flour, baking soda, ginger, cinnamon, allspice, and salt and whisk to combine. Set aside.
Combine the warm butter, molasses, both sugars, fresh ginger, and the egg in a large bowl and mix thoroughly. Add the flour mixture and chopped candied ginger and stir until incorporated. The dough will be soft.
Form the dough into 1-inch balls (1/2 oz of dough for each). Roll the balls in the Demerara sugar and place them 2 inches apart on the baking sheet. Bake, in batches (form the rest of the balls while the first batch is baking ), for 10 to 12 minutes, or until they puff up and crack on the surface and then begin to deflate in the oven. For chewier cookies, remove them from the oven when at least half or more of the cookies have begun to deflate; for crunchier edges with chewy centers, bake a minute or so longer.Slide the parchment sheets of cookies onto cooling racks or use an offset spatula to transfer the cookies, and cool completely. Stored in an airtight container, gingersnaps keep for several days.
Recipe from Alice Medrich.