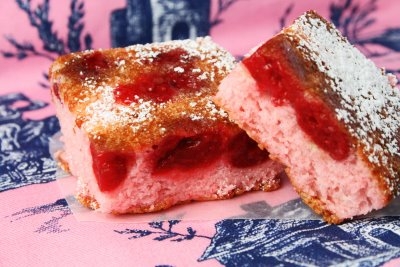 I have been such a slacker when it comes to
Weight Watcher Wednesdays
lately. I have not been doing much blog worthy cooking. But I HAD to have a sweet treat over the weekend, and I recalled this WW recipe that I made a while back with only TWO ingredients! It is SUPER SUPER simple. And so very tasty. If you are not an Angel food cake person, this one is
not
for you. I tried my hardest to eat just one, but it was impossible!
I know I know..I choose the WRONG color background for this. Too much pink! Looks like someone puked Pepto-Bismol!!!!!But they were GONE before I had a chance to snap another photo.
CHERRY SQUARES
1 package Angel Food cake mix, about 14 1/4 oz
1 22oz. can light cherry pie filling
Preheat oven to 350F
Combine cake mix with pie filling( do not add any other ingredients). Pour batter into ungreased 9X13 baking dish. Bake for 30 minutes. Cool and cut into 24 squares.
Points value: 2
****you can use any lite pie filling..I also made this with Blueberry Pie filling****
Recipe from Weight Watchers.com