Thanks for everyones ideas for my Impulse Buy. I decided the first thing I would do with them would be, Vanilla Extract. Have you noticed how expensive Vanilla Extract is? Its like $8.99 for one of the bigger bottles of McCormick. For all you bakers out there you know how fast it goes!! Well it seemed pretty economical to buy a Big Bottle of Smirnoff. I think it was $32.
I always feel sooo out of place when I go into a liquor store. I don't drink that often, because when I do, strange and embarrassing things happen. I always make an ass out of my self,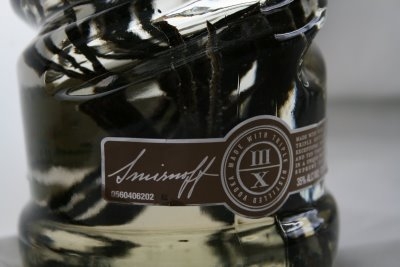 and get to hear all of the wonderful stories from everyone at the party for weeks. Thank goodness I am a happy crazy drunk! Lets just say, I can be the life of the party! So needless to say none of this Vodka will be touching my lips until it reaches the extract point.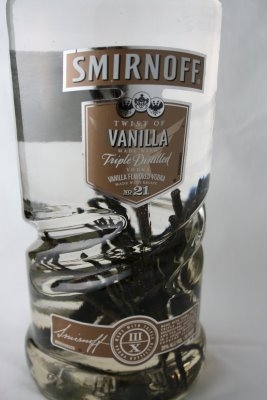 A few of you pointed me to The Traveler's Lunchbox post about Extract. To tell you the truth that post was just to damn long for me to read. I have a bit of ADD and my mind goes wondering when I read. So I didn't get half way through the post before I got annoyed and stopped reading. So if you have super long, wordy posts on your blog one day, you might not see a comment from me there, cause I couldn't keep my attention! Its not you, its me..I swear!
Vanilla Extract:
I stuck 15 vanilla beans in a big ass bottle of Smirnoff Twist of Vanilla
Wait and Wait and Wait. Shake every few days. Wait and wait and wait.
I will let you know in about a month how it turns out!