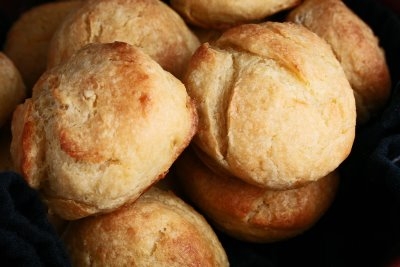 One of my FAVORITE blogs is The Noble Pig. She is one of my daily reads. Cathy always has funny, relatable content and delicious food. I saw these yummy little rounds of carbohydrate goodness and had to read on! No yeast..there is no yeast in these biscuits. I have never really worked with yeast. Nooo, I am not scared. But I associate yeast with having to wait to bake something, and to be quite honest, if I am gonna bake something..I WANT IT NOW! I don't want to wait for 2 hours for something to rise. So I knew these were for me. I baked them the next day after I saw them. They were almost embarrassingly easy to whip up. Did my kids eat them?? Hell no they didn't eat them. They were different from their everyday Pillsbury wheat rolls I give them. So there was no way they were going to eat them. Little terds! Oh well..that meant more for me and the hubby. The biscuits were delicious plain, with butter or with jam. Anyway you look at it, they are superb! Make them tomorrow will ya?
adapted (but changed) from Cooking Light
8 ounces cubed peeled Yukon Gold potato
1/2 cup buttermilk
1/2 cup sour cream
2 Tablespoons butter, cut into smaller pieces
1-3/4 cups all-purpose flour (about 7-3/4 ounces)
1 Tablespoon baking powder
1 teaspoon salt
1/2 teaspoon baking soda
Cooking spray or parchment paper.
Place potato in a medium saucepan; cover with water. Bring to a boil. Reduce heat, and simmer 10 minutes or until potatoes are fork tender; drain. Return potato to pan. Add buttermilk, sour cream and butter to pan; mash with a potato masher until smooth.
In a large bowl, combine flour, baking powder, baking soda and salt. Add potato mixture and stir just until moist. Do not over stir. Turn the dough onto a slightly floured surface; knead lightly about 5 or 6 times.
Pat dough to a 3/4-inch thickness (get out you ruler). Cut with a 2-inch biscuit cutter. (You can use a larger cutter if you like.) Place biscuits 2-inches apart on a baking sheet coated with cooking spray or covered in parchment paper. Bake at 450 degrees for 14 minutes or until lightly browned.