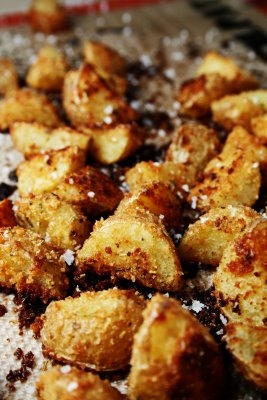 We don't eat spuds that often in my house, quite frankly because my hips don't like them. And we all know I have willpower issues. So I just avoid them like the plague! But on the rare occasion that I do make them, I don't want mashed potatoes (even though I make MEAN mashed potatoes) and I don't want boring old baked potatoes, cause those are no good with out a whole stick of butter in them(again not very ass friendly)! So I whipped these up one night. They are so very good and comforting. The good thing about them is they are loaded with flavor and I don't have to undo my pants button after eating them!
My measurements are usually done by sight, so I tried my best to duplicate it for you.
Go ahead, try em..I think you and your family will love them!!!!
LESLIE'S ROASTED POTATOES
1 Lb potatoes(cubed)
Extra Virgin Olive Oil
1/3 cup bread Italian seasoned bread crumbs
2 Tbsp Parmaigiano- Reggiano
1/2 tsp rosemary(fresh or dried)
1/4 tsp onion powder
1/2 tsp garlic powder
Salt and pepper
In a small bowl mix bread crumbs, Parmigiano -Reggiano, rosemary, onion and garlic powder, salt and pepper.
In a medium bowl, coat potatoes in enough olive oil to generously cover.
Pour the bread crumb mixture on potatoes and mix until the potatoes are covered evenly.
Place on parchment paper or silicone lined baking sheet.
Bake in a preheated 450 degree oven for 30 minutes, stirring about every 10 minutes until golden brown.
Sprinkle with Kosher Salt or Fleur De Sel
Makes 4 small servings