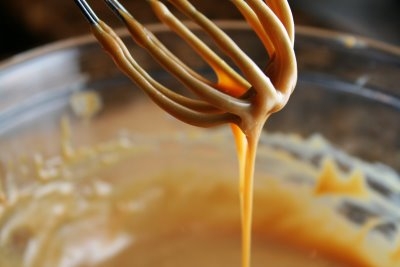 Dulce de Leche..Wikipedia defines it as a milk based syrup. In Portuguese it means "milk candy".
Have you had it? No? Yes? Well let me tell you it is sooooo very creamy, sweet and milky. You can use it over anything, ice cream, flan, over cookies and even in coffee. The possibilities are endless. Unfortunately, it can be very difficult to find. I needed some for a little something I was making, but I couldn't find it at my grocery ( they usually have it). I wasn't going to let this deter me. So I had to make my own. I remember seeing it on the Food Network (possibly Emeril), that all Dulce de Leche was, is boiled Sweetened condensed milk. It does take about 3 1/2 hours to create. But you are just tending to the water level. Not a biggie! So I suggest you hunt out a recipe that calls for dulce de leche and make it! It is sooooooooo ridiculously delicious!
DULCE DE LECHE
1 can Sweetened condensed milk
Directions:
Remove label if there is one. Do NOT open the can. Poke a few holes in the top of the can with a nail or can opener. Place in sauce pan fill with water so 2/3 of the can is covered with water. Boil for 3 to 4 hours. Keep an eye on the water to keep at an adequate level. After the 3 to 4 hours remove from boiling water and carefully remove lid. Pour into bowl and stir any goopy pieces so the mixture is smooth!
ENJOY!
PUBLIC SERVICE ANNOUNCEMENT!
A few folks have commented on that they have heard stories of this method of making Dulce de Leche exploding. While others have said this was the only way they have made it. Accidents can always happen. I took great care in poking adequate size holes in the lid. I guess I got lucky.
Maybe next time I will try this method. I certainly wouldn't want to scrape Dulce de Leche off of my ceiling, or for that matter, off my face!!!