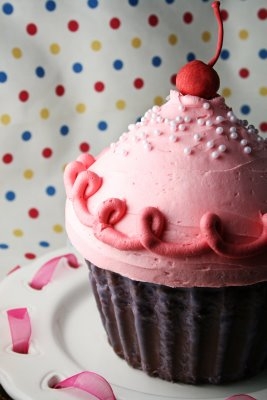 Whew!!! 100 posts. My
first
post was April 23rd 2008. It still sits there alone with 0 comments.
What a lonely coconut cake.
I again want to thank EVERYONE who reads my blog. And especially want to thank those of you who take your time out of your day to leave your kind comments. If it weren't for comments we would have no idea who, if anyone is reading our blogs.
I always go back and forth..to blog or to stop blogging. As you all know it is very time consuming but also so very rewarding. So for now, I am on the continue blogging side. But tomorrow, who knows. What would I do with all of my time if stopped???LOL
So again, THANK YOU, THANK YOU, THANK YOU!!!
Also if you have any suggestions on my blog, feel free to let me know..more this..less of that??!!
Above is a GIANT cupcake cake I made today. You cant really tell it is big, but it is. I used the
Wilton Giant Cupcake Pan
. My
sister
asked me to make the cake for her daughters birthday. After all of the stress I had with my 3 year olds
Sleeping Beauty Birthday
cake, I was hesitant. But I couldn't turn down a chance to bake for my cute niece.
So in my anal fashion, I had to do a practice cake(and probably wont be my last practice). Sarah's theme for her birthday party is
Pinkalicious
. My mission is to make a giant cupcake cake to look like the one in the book.
Mission accomplished. I even made a huge cherry out of gum paste that I colored red with red food coloring.
Cute, very cute!