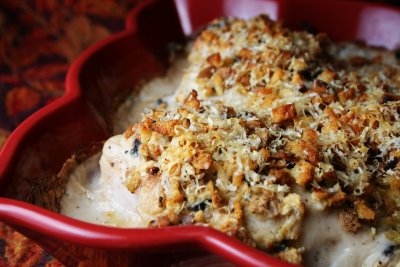 We have all had it at one point in our lives..you know..when you are standing in your kitchen, staring at a plate of thawed chicken breast..staring and staring and staring. I HATE HATE making the same things over and over. I pulled out my recipes binder, saw some things that looked good. Crap, I had none of the ingredients in my pantry. I had no bread crumbs, no fresh herbs, no pasta. Hmmmm, desperate times call for desperate measures.
I know I had potatoes and onions. Ok, I could work with what I had.
Again, no bread crumbs..there it was in the rear of my pantry…Stove Top Stuffing! All Stove Top is is Bread right? So below is the recipe in which I came up for dinner. I know the photos look like a big blob of nothing. But I tell you what…it was pretty damn tasty if I must say so myself!
Empty Pantry Chicken
4 organic chicken breasts
1 can cream of mushroom soup
1 potato sliced thin
1 onion
3/4 cup Sherry
1 cup Stove Top Stuffing mix
1/4 cup Parmigiano-Reggiano Cheese
Salt and Pepper
Slice onion thinly, caramelize them in pan
In a buttered casserole dish, arrange thinly sliced potatoes on bottom
Salt and Pepper Chicken
Place chicken on top of potatoes
Place caramelized onions on top of chicken
In small bowl, mix cream of mushroom soup and sherry together
Place soup mixture on top of onions
Top with Stove Top Stuffing
Shred Parmigiano-Reggiano cheese over Stove Top
Bake uncovered in preheated 350 degree oven for 1 hour or until chicken is done.