Pizza………..How easy is that? Everyone can make Pizza Right? Sure I can, I make it almost every Friday night. I purchase pizza dough from my grocery bakery, let it rise for an hour when I get home, load it up with toppings, and there we have it…PIZZA! I am soooo a pro! HA…I was humbled with the challenge. Lets just say I suck! All 4 pizzas I made tasted amazing. However they were the ugliest things you have ever laid eyes on! Lets start at the beginning. Making the dough was a cinch. 5 minutes and it was done(except for all the resting and rising time). One of the rules to this challenge was to actually "toss" the dough. Ok..I was born in Pittsburgh, not Italy. What a disaster it was. After my lame attempts at tossing the dough, there was corn meal EVERYWHERE on the floor. I was laughing so damn hard if I were 40 years older I probably would have lost control of my bladder and peed all over the floor from laughter! My fits went through the dough multiple times. So I just threw it on the counter and worked with it the best I could. I made four pizzas and not even one was remotely close be being round.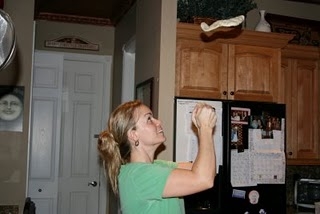 Below is what happened when I tried to transfer my nice round pre baked pizza from the back of the heavily corn mealed cookie sheet. Everything went everywhere and ended up all piled up on top of itself.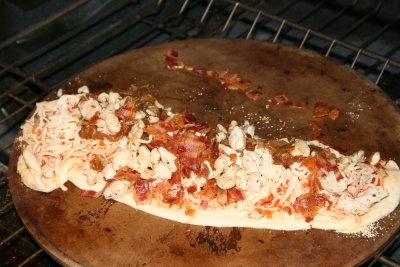 These little charred pieces of who knows what that flew off the pizza during the transfer nightmare, is what almost caught my house on fire. The smoke was billowing out of the stove, quickly filling up my house. Still laughing and yelling a few choice words running around my house opening all the doors and windows before the smoke alarms went off!!!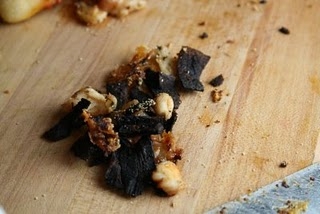 This pizza is Classic red sauce, chicken, caramelized onions and bacon.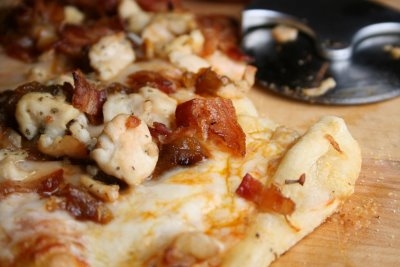 Below consists of Classic red sauce, ricotta cheese, caramelized onion,basil and provolone cheese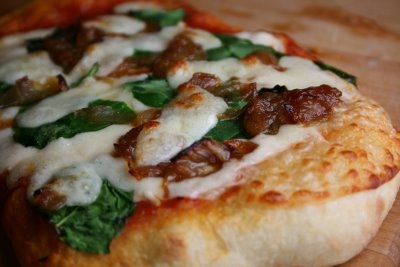 And last but not least…..the STAR of the show
BLUEBERRY w/ brown sugar marscapone cheese, crumb topping..oh no, its missing something!!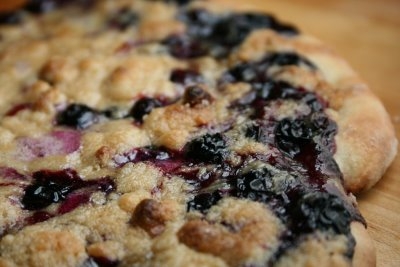 Ahhhhh, here we go
the HOMEMADE DUCLE DE LECHE drizzle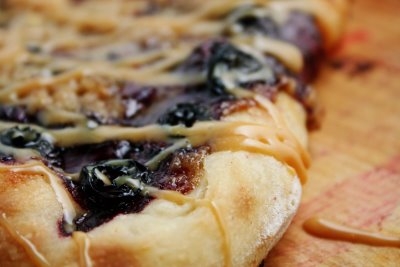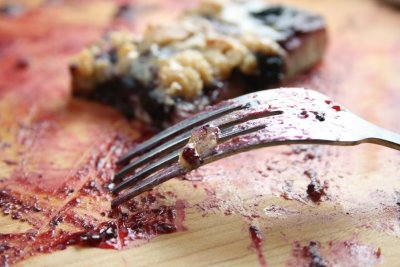 What is the picture below you might ask???I slid the Blueberry pizza off the pizza stone on to my cutting board. My sister was sitting on one side of my island and me on the other. Without even putting the pizza on a plate, we both took a bite. The Ohhhh's and ahhhhh's started and continued with EACH bite! I think this was the best thing I have ever tasted!! I told my husband he better get some if he wanted any. my sister and I continued to eat and eat and eat! We couldn't stop, we were like crack addicts! My husband came into the kitchen about 5 minutes later to eat some and there was only a TINY little square left! He said, "GOOD LORD, you guys ate it all". Yes I must admit I ate a half of a pizza. It
was
a VERY VERY small pizza, but still! Who does that?? Who eats a half a pizza? Yours truly here..the will power issue Queen!!!
And let me tell you what a pain in the ass it was to clean my massive BOOS Block cutting board that was completely stained with blueberry juice!!! But boy was it worth it!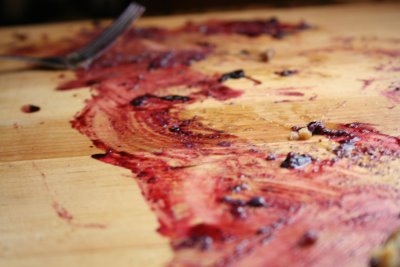 A special thanks to
Rosa at Rosa's Yummy Yums
for hosting this delicious challenge. She did it solo because on of our Daring Bakers, Sherry, passed away tragically just prior to hosting this challenge with Rosa.
BASIC PIZZA DOUGH
~Original recipe taken from "The Bread Baker's Apprentice" by Peter Reinhart
Makes 6 pizza crusts (about 9-12 inches/23-30 cm in diameter).
Ingredients:
4 1/2 Cups (20 1/4 ounces/607.5 g) Unbleached high-gluten (%14) bread flour or all purpose flour, chilled
1 3/4 Tsp Salt
1 Tsp Instant yeast
1/4 Cup (2 ounces/60g) Olive oil or vegetable oil (both optional, but it's better with)
1 3/4 Cups (14 ounces/420g or 420ml) Water, ice cold (40° F/4.5° C)
1 Tb sugar
Cornmeal for dusting
DAY ONE
1. Mix together the flour, salt and instant yeast in a big bowl (or in the bowl of your stand mixer)
2. Add the oil, sugar and cold water and mix well (with the help of a large wooden spoon or with the paddle attachment, on low speed) in order to form a sticky ball of dough. On a clean surface, knead for about 5-7 minutes, until the dough is smooth and the ingredients are homogeneously distributed. If it is too wet, add a little flour (not too much, though) and if it is too dry add 1 or 2 teaspoons extra water
NOTE: If you are using an electric mixer, switch to the dough hook and mix on medium speed for the same amount of time.The dough should clear the sides of the bowl but stick to the bottom of the bowl. If the dough is too wet, sprinkle in a little more flour, so that it clears the sides. If, on the contrary, it clears the bottom of the bowl, dribble in a teaspoon or two of cold water.The finished dough should be springy, elastic, and sticky, not just tacky, and register 50°-55° F/10°-13° C
3. Flour a work surface or counter. Line a jelly pan with baking paper/parchment. Lightly oil the paper
4. With the help of a metal or plastic dough scraper, cut the dough into 6 equal pieces (or larger if you want to make larger pizzas).
5. Sprinkle some flour over the dough. Make sure your hands are dry and then flour them. Gently round each piece into a ball
6. Transfer the dough balls to the lined jelly pan and mist them generously with spray oil. Slip the pan into plastic bag or enclose in plastic food wrap
7. Put the pan into the refrigerator and let the dough rest overnight or for up to thee days.
NOTE: You can store the dough balls in a zippered freezer bag if you want to save some of the dough for any future baking. In that case, pour some oil(a few tablespooons only) in a medium bowl and dip each dough ball into the oil, so that it is completely covered in oil. Then put each ball into a separate bag. Store the bags in the freezer for no longer than 3 months. The day before you plan to make pizza, remember to transfer the dough balls from the freezer to the refrigerator
DAY TWO
8. On the day you plan to eat pizza, exactly 2 hours before you make it, remove the desired number of dough balls from the refrigerator. Dust the counter with flour and spray lightly with oil. Place the dough balls on a floured surface and sprinkle them with flour. Dust your hands with flour and delicately press the dough into disks about 1/2 inch/1.3 cm thick and 5 inches/12.7 cm in diameter. Sprinkle with flour and mist with oil. Loosely cover the dough rounds with plastic wrap and then allow to rest for 2 hours
9. At least 45 minutes before making the pizza, place a baking stone on the lower third of the oven. Preheat the oven as hot as possible (500° F/260° C).
NOTE: If you do not have a baking stone, then use the back of a jelly pan. Do not preheat the pan
10. Generously sprinkle the back of a jelly pan with semolina/durum flour or cornmeal. Flour your hands (palms, backs and knuckles). Take 1 piece of dough by lifting it with a pastry scraper. Lay the dough across your fists in a very delicate way and carefully stretch it by bouncing it in a circular motion on your hands, and by giving it a little stretch with each bounce. Once the dough has expanded outward, move to a full toss
NOTE: Make only one pizza at a time.During the tossing process, if the dough tends to stick to your hands, lay it down on the floured counter and reflour your hands, then continue the tossing and shaping. In case you would be having trouble tossing the dough or if the dough never wants to expand and always springs back, let it rest for approximately 5-20 minutes in order for the gluten to relax fully,then try again.You can also resort to using a rolling pin, although it isn't as effective as the toss method.
11. When the dough has the shape you want (about 9-12 inches/23-30 cm in diameter – for a 6 ounces/180g piece of dough), place it on the back of the jelly pan, making sure there is enough semolina/durum flour or cornmeal to allow it to slide and not stick to the pan
12. Lightly top it with sweet or savory toppings of your choice.
13. Slide the garnished pizza onto the stone in the oven or bake directly on the jelly pan. Close the door and bake for abour 5-8 minutes