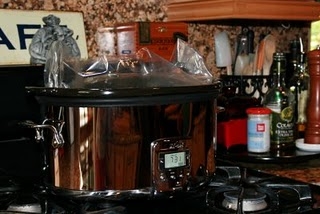 Isn't it funny how STRONG the Crock Pot "Brand" is. It seems like all slow cookers are lumped into the name "Crock Pot". My first slow cooker was a Crock Pot. I had it for many years and it served me well! A few month ago the ceramic liner got a crack in it, so I had to toss it!
I was totally fine with my loss..because that meant I could get a new shiny toy! Waho!!!!
I decided on the All-Clad 6 1/2 Qt. slow cooker! Its bad ass!!! I love shiny stuff! Especially diamonds! What??Did I say diamonds..husband are you reading this??? Hint Hint!!!
Anyhooooo…I love to cook in my slow cooker. Cant get much simpler than throwing all the junk in there in the morning and it being done in 8 hours without me having to do any work!!! Love it.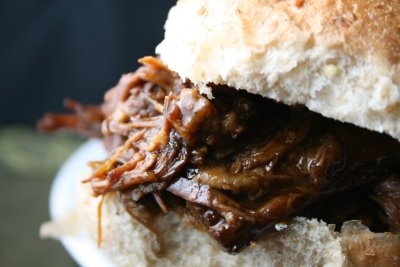 I decided on some BBQ shredded Beef with Whole Grain Buns!
Yum!
I made these over the weekend. Too bad Jenny at the Picky Palate didn't post her BBQ sauce recipe until today, cause I would have loved to have tried it! It looks soooo much better than the Bottled junk!
Here's what you do..
3 1/2 lb organic chuck Roast
1 large bottle of BBQ sauce (or if your fancy..make your own)
Garlic Powder
Onion Powder
Salt
Pepper
A gulg of vinegar
Rub the meat with the garlic powder, onion powder,salt and pepper. But the meat into the crock pot and cover it with the BBQ sauce and dump the vinegar in. SET IT AND FORGET IT!!
Set it on high for 7 hours.
Take the meat out after hour 7.
Shred it and get rid of all the fatty stuff! (Yucky)
Put it back into the crock pot and cook it on low for another hour!!
Enjoy
P.s…Sorry to my vegetarian readers..I always feel bad when I put up a meat post! I don't want to gross anyone out.

Have you seen these Slow Cooker Liners???? OMG.. I will never cook anything in my slow cooker without them!! LOVE THEM! No cleaning of your Slow Cooker Required! NICE!!!